Hello everyone. This will have a bit of a different format to my usual reviews - coming soon in the very near future myself and my friend Kyle -
@kazze23
on Twitter - will be starting our very own wrestling podcast! TNW: Then, Now, Whatever will begin recording in mid-February with a look back at the 2016 Royal Rumble. We've then got lots of ideas for how we'll continue things thematically covering both wrestling past and present (hence Then, Now) and other things (Whatever).
This post is to give you a little bit of a preview of how things will work with the show. All our episodes will be uploaded to our Soundcloud account
http://soundcloud.com/tnwpodcast
, and will then be followed up by posts here on this blog that will be a kind of "director's cut" of the show with links, explanations and visual references to some of the things that get brought up in the show. This edition is just me messing around with my wonderful Yeti ("Ye-taaaah") from Blue Microphones but future editions will be myself and Kyle coming to you from a fully fledged sound studio.
So, keep track of us by following us on Twitter (
@TNWPodcast
) and Facebook (
www.facebook.com/TNWpodcast)
and remember
WWE Saturday Night's Main Event - March 18th 2006
Cobo Arena, Detroit, Michigan
This show was included as an extra on he Wrestlemania 22 DVD release, and I actually stayed up to watch it live at the time so I thought it would be a laugh to see how it's aged.
*
1;21
here's that run of promos in full, along with that stone age "hide behind a skirt/take it like a man" theme song.
*
4;06
Sorry, it was Dr. Heiney and Nurse Slobberknocker! Here's the
segment in full
if you can stomach it.
RIP Jim Ross
by SLAPNUTS1201
*
6:04
I'm a massive fan of New Japan and imitate how their commentators call certain things, hence "GAAAAH-MAAAAAAHN" for a German suplex.
*
7:18
Yes that is a
Mean Girls reference
, don't judge me.
*
7:24
you can find the
offending "match" here
. Is Cobo Arena the same place as Cobo Hall?
*
7:47
This was my first time reviewing a show with commercial breaks so I thought it's be fun to add some wrestling themed adverts. The three I chose were
Kurt Angle's Pizza Outlet commercial
, one of Macho Man's
Slim Jim
ads (naturally) and the
Raw 1000
advert.
*
10:27
RKO OUTTA NOWHERE, sorry my delivery was a bit pants there.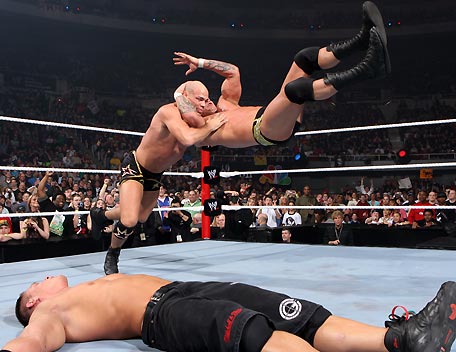 *
13:03
What Lita was/wasn't wearing.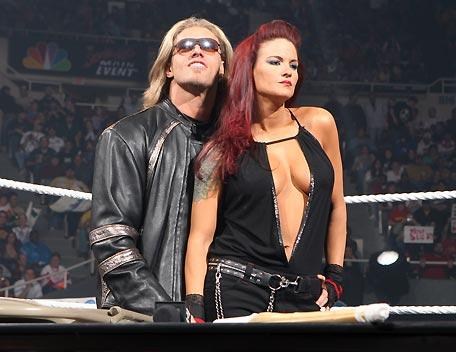 *
20:57
Brokeback Mountain being the multi-award winning Ang Lee film starring Heath Ledger about the relationship betweentwo men from the Mid-West.
*
22:29
"Redacted" of course being Chris Benoit, who's been practically written out of WWE history due to his double murder suicide in 2007.
*
22:41
Austin in JBL's hat will never stop being funny.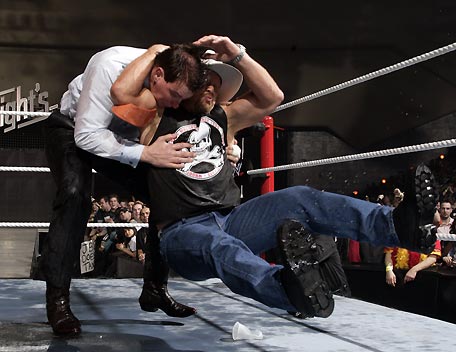 *
24:39
"The Ma-Trish"
*
25:08
*Maniacal laugh*
being a Muppets reference of course.
*
26:28
WWE Wreckless Intent
was the album I was thinking of featuring Mark Henry's ace Three 6 Mafia theme and Batista's Saliva theme.
*
29:14
I was singing the theme song to WWE.com's
"Mr. Mcmahon's Kiss My Ass Club" cartoon
.
*
29:32
#nojigsinwrestling
*
30:37
"A KING SIZED SUPERPLEX"
*
33:25
Coast to Coast gone wrong
*
33:41
Vince McMahon always called inverted atomic drops "reverse piledrives" when he did commentary. Incidentally, whatever you do, don't Google "reverse piledriver".
* General notes: there's a wee bit of influence from some of my other favourite podcasts throughout, particularly my Jerry Lawler impression, which is practically identical to the Attitude Era Podcast's, and "THE RULES" when JBL explains the beer drinking contest came from OSW Review's V1.
Hope you enjoyed the show, and as I said above, keep an eye out for our début proper.