Hi everyone,
Hope you all had a nice Christmas. I had a pretty relaxing time, and also found out that at some point over Christmas my blog hit 10000 lifetime views!
I thought I'd get back to wrestling to celebrate, after my
first
couple
of reviews seemed to go down well. Now when I started my "Stick or Twist" series the idea was to go through my old DVDs in chronological order. However, searching through Amazon's flash sales for Black Friday I saw they had the most recent Wrestlemania on offer on Blu Ray. Having enjoyed the show when I saw it at the time, this screamed impulse buy and I thought I'd share my verdict after re-watching it.
WWE Wrestlemania XXX
April 6th 2014
Mercedes Benz Superdome, New Orleans Louisiana
Attendance: 75,167
Pre-show DVD/Blu Ray Extra: Fatal Four Way Elimination Match for the WWE Tag Team Titles - The Usos (Jimmy & Jey) (C) vs The Real Americans (Cesaro & Jack Swagger w/ Zeb Coulter) vs Los Matadores (Diego & Fernando w/ El Torito) vs Rybaxel (Ryback & Curtis Axel)
Zeb doesn't care how all the immigrants snuck across the border tonight, just as long as all the real Americans join him in saying WE THE PEOPLE. Only two men are legal at one time, and you're free to tag anyone from any team.
Axel & an Uso (lets say Us1, it's unclear which one) start, trading chops. N'Awlens: "We the people!" Axel tries tagging the Real Americans but they get off the apron. Nice! Diego tags himself in, rolling up Us1 for 2. Dropkick to Ryback, only for Us1 to roll him up mid "Ole!" for 2. Tag to Us2, but they miss their double elbow! That's a first. Diego flips about and tags Fernando so they can high low Us2 for 2. The Real Americans manage to tag in for a double avalanche for 2.
Fernando fights back with a springboard back elbow & twisting senton, but Swag ducks the Lionsault. A Frankensteiner sends both over the top and eventually everyone but Los Matadores gets shit canned. Double springboard attacks for everyone as Torito goes mental. He tries a dive too but Axel catches him, then tries a dive of his own, but gets put in a double electric chair. Torito crossbodies Axel (DQ?) & they all fall onto the pile of guys outside. Ole! N'Awlens: "Holy Shit". Fernando & Swagger back in. Cesaro distracts Fernando as he climbs the ropes, allowing Swag to run up & get the Patriot Lock in one fell swoop. Nice! Fernando taps out. LOS MATADORES ELIMINATED
Us1 gets put in the Patriot Lock too but rolls out, allowing Axel to tag Swagger. He exchanges quick tags with Ryback, isolating Us1, Ryback ultimately hooking a shit Cobra Clutch rip off resthold. A "Resthold" sign in the crowd appears in case it's unclear what's going on haha. Us1 escapes and tags Us2! He kicks Axel's leg out from under his leg. Gorilla press into a Samoan Drop (and he's actually Samoan!). UUUU! N'Awlens: "SO!" Assalanche! He shit cans Axel, but Swagger blind tags. Amateur spinebuster gets 2. Swagger bomb... Us gets a foot up.
Ryback tags in & spinbusters everyone to big heat. Meathook to Swag. FINISH IT! Shellshock... Cesaro blind tags, only to get press slammed into the ring. Meathook... COUNTERED INTO SWISS DEATH! Neutraliser! 1... 2... 3!
RYBAXEL ELIMINATED
Stand off between the two remaining teams. The crowd love both. WE THE PEOPLE! UUU! SOOO! It's breaking down, and the Usos shit can the Real Americans and hit stereo topes! USO CRAZY! Us1 tries to crossbody Cesaro from the top back inside, but it gets turned into a tilt-a-whirl backbreaker for 2. Cool spot. Us1 counters the neutraliser with a jacknife... Cesaro tries to counter with the swing, but Us2 makes the save. Sick uppercut to Us2. Cesaro tags in, only for Us1 to hit both with the whisper in the wind for 2! Assalanche... countered with the Patriot Lock! Us2 saves at the second time of asking. Swiss Death to Us2! Samoan drop to Cesaro! E'rbody down! N'Awlens: "THIS IS AWESOME". Tags to Us2 & Cesaro. Cesaro gets shoved into Swag, double superkicked and DOUBLE SUPERFLY SPLASHED for 1... 2... 3!
Winners: The Usos (still champions)
Verdict: 7.5/10. Ace match, it was definitely worthy of being on the main show instead of the free preview. The eliminations were all cool and featured slick, innovative sequences that got the crowd rocking.
*Cole points out Rikishi (The Usos' daddy) also defended the tag titles in a 4 way at Mania XX in a nice touch. Post match, Swag gives Cesaro shit about the finish and goes for the Patriot Lock. Zeb breaks it up and orders the two to shake it off. Swag reluctantly offers to NO chants, and Cesaro accepts it... only to double leg Swagger & hit the Cesaro Swing! The crowd love Cesaro. WE THE PEOPLE! If only they'd pulled the trigger on his face turn...
*Onto the main show! The opening video is jazz and Mardi Gras themed appropriately enough, calling Mania a celebration. We also get Andre from Mania III & Austin from Mania 14 cheesily photoshopped into the Mardi Gras. Cole sounds really bored when he's introducing the show.
*We're then introduced to our host for the evening - The Immortal Hulk Hogan! Hogan's singing along with his entrance music as he's coming to the ring haha. LEMME TELL YOU SOMETHING BROTHER! He calls the venue the Silverdome and fluffs some lines. The second time he says Silverdome the fans chant SUPERDOME at him. Hulk: "Im sorry, it is the Superdome brothers!" He says he was thinking of when he slammed Andre at Mania III, and promises more special Wrestlemania moments. Hulk: "You never know when..."
STONE COLD! STONE COLD! Austin is here and gets a huge pop when he finally comes through the curtain. JBL: "Hulkamania may be stunned!". Austin: "If you're ready for Wrestlemania XXX gimme a hell yeah!" Crowd: "HELL YEAH!" He trolls the fuck out of Hogan for getting the venue name wrong, and teases whuppin' Hogan's ass. He's seen everything Hogan's done... Wrestlemania I ("WHAT?"), Wrestlemania II ("WHAT?"), Wrestlemania III ("WHAT?") etc. They shake hands & Austin says he respects Hogan and that tonight's the night for today's stars to put it all on the line.
IF YA SMEEEEEELLLLLL! THE ROCK IS HERE! Cole: "Hercules himself!" He's got goosebumps and kisses his momma, sat in the front row. JBL: "The Mount Rushmore of sports entertainment has come to life at Wrestlemania XXX". Rock says all five of his senses are on fire because FINALLY THE ROCK HAS COME BACK TO NEW ORLEANS... and the SUUUPERDOME haha! He marks out being with the two biggest names in WWE history and compares Cena to Hogan (to boos) and Bryan to Austin (to YESes). He postulates loads of people are born nine months after Wrestlemania because they're so electrified by The Rock, then says a nice Wrestlemania rhyme.
All three finish on their three big catchphrases, with Hogan getting the final word and one more chance to get the venue correct. They then all toast Wrestlemania with some Steweisers. Great visual.
*Cut to a video package for Bryan vs HHH that follows Bryan right from the start in NXT and even has footage of him from the indies. There's also a GREAT shot of HHH looking smug in front of a tonne of fans YESing.
Match 1: Triple H vs Daniel Bryan (the winner advances to the WWE title match later tonight)
Steph announces HHH to the ring, and his entrance is immense, very Game of Thrones/Conan like with some some amazing chain mail. Scarily Cole says this is Hunter's 18th(!) Mania match. Bryan has some insane Bruiser Brody style furry boots, and crucially a taped shoulder. Steph Eskimo kisses HHH before the match starts haha! Cole points out this is a first time match (rare nowadays).
Hunter offers a handshake to major heat, but Bryan kicks it away & school boys him for 2! Trips stalls outside, coming back in with nice chain wrestling around Bryan's arm, shoulderblocking him to massive heat, only to get kneed in the gut & headlocked. Excellent escape attempts by HHH, who goes for the arm. Bryan comes back with a tornado DDT from the apron on the outside! He goes up top... heelo to HHH! H tries a Pedigree on the announce table, but has to make do with yanking Bryan's injured arm into the table! Bryan gets back in the ring after a 7 count. Hunter zones in on the arm some more. Bryan escapes, low bridging HHH to the outside. Suicide dive... met by a big right hand. Cole: "Triple H has had an answer to everything thus far." SICK hammerlock back suplex on the apron by HHH leads to another countout attempt. Daniel gets in at 9, as Hunter applies a crossface to DANIEL BRYAN chants. Bryan gets to the ropes, but Trips break the hold late.
Bryan starts the comeback with a flying forearm. Hunter had the backflip out of the corner scouted, only for Bryan to get two near falls with German suplexes. Triple H counters with a FUCKING TIGER SUPLEX! Jesus. That gets 2. He takes Daniel up top only to suffer a sunset flip powerbomb. Corner dropkicks by Bryan! He goes for a third but is met by a MASSIVE lariat by the Game. Pedigree... countered to a jacknife for 2. Buzzsaw kick! Big YESing from the crowd, but Bryan winds up in the crossface again! He crawls towards the ropes... but gets rolled back in the centre. Bryan counters with a roll up... into the YES lock! Trips is in agony! He's so close... and gets to the rope, wisely rolling outside.
Suicide dive by Bryan! And another! Top rope dropkick! He's still selling the shoulder... but nips up! YES kicks to HHH. WOOOOOOAAAAAH... Buzzsaw kick! 1... 2... No! Bryan goes for the running knee... but runs right into a spinebuster! Pedigree! 1... 2... Bryan kicks out! King: "Whoever wins this match will not be a favourite in the triple threat match." Another pedigree attempt... Bryan bridges out. HHH hangs on, but Bryan gets out with a high kick. Buzzsaw kick countered to a suplex attempt... Bryan flips out... KNEE TREMBLER! 1! 2! 3! YES YES YES YES!
Winner: Daniel Bryan
Post match Steph slaps Bryan who's all "C'mon, really?". Hunter then blindsides him and whacks the injured shoulder into the post with a chair. BOOOOO!
Verdict: 9/10. Brilliant match, it's so easy to forget how astute Triple H is as a ring technician. He busted out some brilliant arm work and worked really well with Bryan. Bryan was typically excellent as the plucky babyface pulling out all the stops.
Match 2: Six Man Tag Team Match - The Shield (Seth Rollins, Dean Ambrose, Roman Reigns) vs Kane & The New Age Outlaws (Road Dogg & Billy Gunn)
The Shield interrupt Road Dogg's rap walking to the ring.
Kane and Ambrose brawl to start. Ambrose gets the rope see-saw clothesline and tags Reigns, who clotheslines a freshly tagged Billy Gunn and Road Dogg. Samoan drop to Kane. Reigns tells the Outlaws to Suck It and basement dropkicks both at once. Superman punch! He tries one on Kane but gets goozled. Rollins makes the save with a knee from the top. Heelo to Kane by Rollins as Ambrose takes out RD. All of The Shield circle Gunn, who bails outside. Suicide dives to both Outlaws! Spear to Kane! Spear to both Outlaws! OOOOOOSH! Double triple powerbomb to both Outlaws. 1, 2, 3.
Winners: The Shield
Verdict: Squash city! Big highlight reel of spots from The Shield, which was absolutely the right call considering who the opposition were. Well booked.
*Backstage a bunch of legends are playing with action figures. Ted DiBiase decides to buy them all so no-one can play with them. Everybody's got a price for the Million Dollar Man. Ron Simmons:
"DAMN!"
Match 3: 30 Man Andre The Giant Memorial Battle Royal
28 guys are in the ring already. Only Sheamus and Big Show (in a single shoulder singlet in honour of Andre) get entrances. The winner gets this massive trophy of Andre.
Holy shit the ring is crowded. A Yoshi Tatsu sighting! Oh, but he's eliminated quickly. Kofi Kingston & Cody Rhodes have a kicking contest hanging on the top rope. The Great Khali eliminates Brad Maddox (as if you needed more evidence this was the "get everybody on the show" match). JBL: "Is Vicki in there too?" Khali then eliminates Brodus Clay so everyone gangs up to eliminate him. 3MB eliminate Zack Ryder (no brass ring for you pal!) and Darren Young but have less luck with Mark Henry, who clotheslines Jinder Mahal and Drew McIntyre out, then presses Heath Slater onto both. Show sneaks up from behind to eliminate him, then Titus O'Neil too.
Rey Mysterio and Dolph Ziggler have had lots of hang ons so far. Santion Marella's got his cobra out (wit woo) and hits Miz with it to eliminate him. Poor Miz, from the Mania 27 main event to this... Cesaro & Sheamus are wearing each other out with uppercuts - awesome. Alberto Del Rio eliminates Santino to some heat. Disaster Kick to Damien Sandow by Cody, who teams with Sin Cara and Goldust to eliminate him. Justin Gabriel goes to kick Big E, but gets caught & powerbombed over the top! Jesus! David Otunga gets eliminated too, to remind you he has a job.
Fandango & Big E pair off on the apron, so the fans hum his theme haha! He eliminates E with a high kick and sashays to celebrate, so Sheamus batters him with the trapping chest shots until he's so out of it he falls off the apron. The Rhodes brothers try double suplexing Dolph out but he hangs on. Show presses R Truth over the top(!) so Rey begs off from him. Bit heelish. Tyson Kidd climbs the ropes (idiot), so Del Rio hits the step up enzughiri to eliminate him. Del Rio shit cans Goldie, so Cody goes after him only to get eliminated too going for a Disaster Kick (seriously, it's a battle royal, stay on your feet!) Del Rio tries powerbombing Rey, but it's countered to the 619. Top rope rana on Cesaro. 619... blocked, and Rey gets uppercutted mid springboard & eliminated.
Down to the last six: Show, Sheamus, Kofi, Del Rio, Ziggler & Cesaro. Sweet Swiss Death to Zig by Cesaro. Kofi then charges Cesaro in the corner & alley ooped to the outside, but Kofi gets his feet on the stairs so he's not eliminated!!! Amazing save! Froggy crossbody to Cesaro! Springboard punch to Sheamo. Trouble in Paradise for Del Rio and Show. He tries it on Cesaro but it's blocked into the Cesaro swing! Forever! Chokeslam by Show isn't popular. Brogue kick to Show by Sheamus, who then Brogue Kicks Kofi off the apron as Ziggler DDTs Del Rio. Another DDT for Sheamo.
Dolph finally takes his shirt off to a pop. He's thrown out and tries skinning the cat, but Del Rio kicks him while he's upside down to eliminate him. Sheamo goes for White Noise but Del Rio gets the cross arm breaker and commentary are like "WTF it's a battle royal!". Sheamo deadlifts him & takes them both over the top rope, leaving us with Show & Cesaro. Cesaro escapes goozle attempts only to get chopped out of mid air coming off the top. Show nearly slams Cesaro out, but he escapes and SCOOP SLAMS BIG SHOW OVER THE TOP TO A MASSIVE POP! Show shakes his hand post match in a classy gesture.
Winner: Cesaro
Verdict: 7/10. Battle royals can be a chore but this was pretty fun and really picked up when they narrowed it down to the last ten guys. There were some near eliminations and an AMAZING near elimination from Kofi. Great moment for Cesaro that could have been followed up better.
*We get a video package for the Wyatt Cena feud and the ridiculous build about Cena protecting his "legacy" that Shawn Michaels rightly shat on in the pre-show.
Match 4: John Cena vs Bray Wyatt (w/ Eric Rowan and Luke Harper)
Some random voodoo lady dances before the Wyatts come out. Their theme is played by a live band.
Wyatt gets on his knees and says it could all end now: "Be the monster you want to be John!" Instead Cena headlocks him. Wyatt brawls out eventually with a flying elbow. Wyatt: "This is your hero?" After getting whipped in the corner, Cena looks constipated and stiffs Bray with a clothesline and shots in the corner. Harper & Rowan get on the apron but Wyatt implores them not to help. Batista kick by Cena, who mounts & punches Wyatt. John rolls off & looks sad while Bray looks amused.
Suplex buster by Bray, who mounts Cena. "I know you John!" He pulls Cena up by the ears only to get dropkicked. Sleeper by Bray. King: "Maybe the most conventional move I've seen from Bray Wyatt." Cena powers out & starts the
five moves of doom
, all smiles now. U can't C me! But Bray crab bridges when Cena tries the five knuckle shuffle, so Cena's all spooked. Rowan distracts him allowing Wyatt to get the uranage for 2. Bray conducts the crowd in a "He's got the whole world in his hands" singalong and avalanches Cena. A second gets countered with a tornado DDT(!) for 2.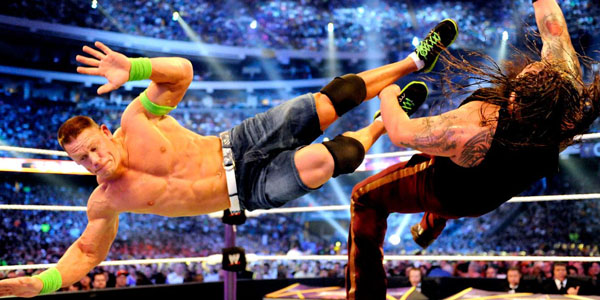 Cena tries the top rope legdrop... Bray blocks with a powerbomb for 2! Cena comes back with the five moves of doom, only for Bray to slip out of the Attitude Adjustment and hit a weird round the world gut buster for 2. N'Awlens: "LETS GO WYATT!" Cena tries an AA from the apron but gets DDTed on it. He's hoisted up top. He blocks the superplex... and crossbodies Rowan and Harper on the outside! Wyatt gives chase only to get posted. Cena goes to attack Bray with the steps... but then gets an attack of concious as if he's never used steps on anyone before. Bad move, Wyatt cross shoulderblocks him in the ring for 2.
Senton by Wyatt... misses! AA by Cena! 1, 2... no! King: "I don't know if it was his last gasp, but it was certainly his best shot". For some reason Cena pokes his head through the ropes, so Harper kicks him while the ref's distracted. Senton by Wyatt gets 2. He sends John outside, but Cena just tackles Harper through the barricade, so Bray gets him back inside. Sister Abigail... countered to the STF! Wyatt gets the ropes, and Cena walks right into Sister Abigail! 1, 2... NO! Bray is furious. He gets a chair... and throws it to Cena. Wyatt: "Be the monster! Finish me!" Hilariously the ref tells Cena "This is not who you are", despite Cena NEVER having a problem using chairs in the past. Cena looks constipated again... but hits Rowan instead of Bray. Roll up by Wyatt gets 2. He tries Sister Abigail again... but Cena gets the AA for the 3!
Winner: John Cena
Post match Cena hugs a kid in his gear in the first row and is all smiles because he only battered the guys he wasn't wrestling with illegal stuff.
Verdict: 6/10. Well the action in this match was better than I remembered it, but man was the story they were going for really weird and daft. Cena's bad acting and sudden moral objections to things he had no problem with in the past really dragged this down.
*Recap of the Hall of Fame ceremony the previous night, including Undertaker paying tribute to Paul Bearer. Howard Finkel then introduces the class to the live crowd. And what a class it was. Jake, Warrior, Lita, Razor. Probably the most consistently worthy class in years. Warrior (RIP) is the only one to come out to his own (amazing) music.
*A video package for Brock vs Taker airs, as Optimus Prime runs us through the streak's past victims before Heyman spoils the party. He's got an ace line about what happens if Brock wins: "And then the smallest number becomes the biggest".
Match 5: The Undertaker vs Brock Lesnar (w/ Paul Heyman)
Commentary ponder if Heyman becomes the greatest manager ever if Brock breaks the streak. JBL mentioned Brock's amateur record. Cole: "This isn't high school... we're in the yard of the Phenom!" Taker's entrance is epic - there are coffins for all his previous victims that we see interspersed with clips of his victories and sound bites from Monsoon, Heenan, JR & Cole. Excellent. There's also a coffin for Brock that Taker sets on fire. Taker's in a fantastic voodoo priest themed jacket - fitting for the venue. One fan in the front row has both 22-0 and 21-1 signs - they came prepared! Cole: "This is not going to be pretty". There's an eerie hush in the stadium.
Soupbones by Taker to start. Lesnar reverses a whip in the corner into a belly to belly, then clotheslines Taker outside, but Taker lands on his feet. Nice sequence. Taker hot shots Brock then works the arm. Old School... blocked. Shoulders in the corner by Brock but Taker moves and he hits the post. Taker sets Lesnar on the apron... guillotine leg drop! VINTAGE UNDERTAKER! Back inside, Taker hits snake eyes & goozles Brock. Both men trade counters so Taker sends him to the buckle. He misses the boot in the corner so Lesnar works the leg, using a NASTY single leg pick up on the outside that probably gave Taker a concussion. JBL: "Maybe we're seeing the last ride of The Undertaker?" Heyman looks pensive. One leg stretch in the corner had Taker really hurt so he heads outside, only to be whipped by Lesnar, tripping over the steps into the barricade.
Snap suplex and knees from Lesnar. Cole: "The Undertaker... he looks very mortal guys". Brock peppers him with body shots and he can't even get his hands up. Lesnar ducks his head early on a whip though, so Taker hits the running DDT. Corner clotheslines. Snake eyes. Big boot! Leg drop! That gets 2. King: "I don't know if you feel it, but it's almost as if there's a sense of dread here in the Superdome." Chokeslam by Taker! 1, 2... NO! Tombstone... Lesnar slips out and gets the F5! 1... 2... NEAR FALL! Heyman: "You've got him where you want him! Finish him! IT'S YOURS!" Big Undertaker chants. He can barely move. Lesnar tentatively tries to pick him up... but winds up in Hell's Gate. Lesnar's turning beet red, but powerbombs out of it. Heyman: "Now he's yours!"
Another Hell's Gate again is powerbombed out of, this time he gets Taker up much higher. Kimura by Lesnar! Taker's in agony, but he manages to switch it into a Kimura of his own. It takes a while but Brock gets the ropes. Taker tries Old School again... but Lesnar catches him coming off with an F5! 1... 2... TAKER'S UP! Great spot. Brock then hits the tamest German suplexes you'll ever see, clearly worried Taker is hurt. Heyman: "This is your destiny HE'S TAKING IT AWAY FROM YOU!" Lesnar mounts Taker in the corner. Big mistake - Last Ride by Taker! He stalks the beast... Tombstone! Death pin! 1, 2... Lesnar kicked out! Taker sits up! Throat slash! Another Tombstone attempt... turned around into a THIRD F5! 1... 2... 3!!! SOMEONE'S DEFEATED THE UNDERTAKER AT WRESTLEMANIA!!!
Winner: Brock Lesnar
Holy shit, the reaction from the crowd! It felt like all the air was let out of the stadium. The cameras cut to lots of despondent faces in the audience, including the most meme worthy of them all...
Brock gives Taker a not so subtle wink on his walk back down the ramp. When Heyman raises his hand on the stage the heat is off the chart. Seeing Taker beaten up under the 21-1 graphic is just surreal. He can barely sit up as the crowd chant his name. Some smark in the audience yells YOU SUCK when he finally gets to his feet. Everyone on commentary gives him a standing ovation.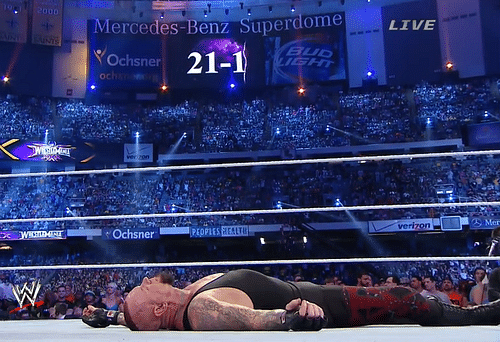 Verdict: 6.5/10. Holy shit, when I watched that at the time I felt like I'd been shot. The opening was really good, they were never going to maintain that pace throughout the match but it was still pretty promising. But Taker clearly got hurt part way through, leading to lots of substandard offense and stalling from Brock. The atmosphere in the stadium was really odd as well, it was almost as if the audience wanted and expected Taker to win but didn't buy him beating Brock in the condition he was in. You could either view this as an innocuous or a realistic way for the streak to end, but either way it was a disappointment.
Match 6: The Vickie Guerrero Divas Invitational for the WWE Divas Championship
Good lord, the entire Divas roster is in the match, but it's one fall to a finish. I smell clusterfuck. Only the champion AJ Lee (champ for 294 days up to this point), gets an entrance and you could hear a pin drop when she came out. Surprisingly this is the first Divas title match at Wrestlemania ever.
EXCUSE ME! Vickie wishes everyone luck... especially AJ.
*MANIACAL LAUGH*
AJ & Tamina get surrounded by everyone. Naomi gets a big hangman X-Factor on Aksana. Layla tried to crossbody both Bella twins, only to get caught & gently put down to boos. Alicia Fox slaps Natayla & gets slammed for her trouble. Nattie tries a ridiculous TRIPLE Sharpshooter but Eva Marie rolls her up for 2. There's a big convoluted simultaneous suplex spot as the crowd chants NO. AJ gets shit canned. TARANTOOLA by Emma. She's using her EMMAgination. Emma Sandwich!
A scissors kick by Alicia cues a finisher fest... except from Eva Marie, who can't wrestle so she just shoves Tamina down. BRIE MODE dropkick by Brie Bella, followed by a double Bella dropkick to Tamina. The twins tease fighting each other but do stereo suicide dives onto all the other divas outside instead. NOW they get in a shoving match. Rack Attack by Nikki! 1, 2... broken up. Nice tilt-a-whirl backbreaker by Alicia, only to get hit by a butterfly suplex from Nattie. Samoan drop by Tamina. Superfly splash.... Naomi pulled her off. Tower of doom spot in the corner! Tamina pulls Nattie off the cover outside and gets clotheslined for it. Meanwhile AJ sneaks in the ring and gets the Black Widow submission on Naomi, who taps! Vickie looks displeased.
Winner: AJ Lee (still champion)
Verdict: 3/10. I predicted clusterfuck, I got clusterfuck. What a mess, and the audience were still too gutted for Taker's streak to care.
*Mean Gene Okerlund is backstage with Hogan. "Mr. Wonderful" Paul Orndorff and Rowdy Roddy Piper interrupt. Piper says Hogan's done a good job as host, but he doesn't want to hear any more about how Hogan & Mr. T beat them at Wrestlemania I. Orndorff feels the same but blames Piper. Mr. T comes out & says he PITY THE FOOL that trash mouths Hulk. Pay per view Payday Pat Patterson then arrives in an old ref shirt to calm things. Hogan says they should bury the hatchet, so everyone shakes hands and, even though it pains him to do it, Piper hugs it out with T.
*There are loads of Hall of Famers in the crowd. Holy mackeral Bruno Sammartino's here! As well as Race, Dusty, Backlund and Bret. Well they had to try popping the crowd with something to get them in the mood for the main event.
Main Event: Triple Threat Match for the WWE World Heavyweight Championship: Randy Orton (C) vs Batista vs Daniel Bryan
Orton gets his theme played live. Big heat for Bootista. Earlier we saw Bryan being checked on by doctors & he's still giving the arm the hard sell, clutching it to his stomach and only YESing with his good arm. Naturally the announces plug the Network after the super special announcing.
Bryan immediately dropkicks Orton & escapes a Batista Bomb. YES kicks countered by Orton wrenching the injured arm. Batista tries powerslamming Orton but eats a three point backbreaker. Orton shit cans Bryan, only for Batista to then shit can him. Wow, does Dave have roses in his back tattoos? He dominates Orton at ringside, sending him to the steps. Batista Bomb on the steps?! No, Orton backdrops out and Dave crashes into the steps. Orton then hammerlocks Bryan into the barricade and back suplexes both men into the barricade. ORTON POSE! He gets a near fall on Dave in ring with the Garvin stomp and knee drop.
Bryan dropkicks Dave & Randy from the top outta nowhere! YES kicks for everyone - four for you Glen Coco
YOU GO GLEN COCO
! Orton catches Daniel with an exploder suplex, but Batista breaks the fall. He then powerslams Orton only for Bryan to break the fall. Dave charges Bryan only to eat turnbuckle. Corner dropkicks for all! And none for Gretchen Wieners -bye! Bryan gets a top rope Frankensteiner on the Viper for 2! JBL noted he couldn't hook the leg due to his shoulder. Bryan goes for Batista on the apron but gets suplexed to the outside! Yikes. The Animal is cut off up top by Orton. SUPERPLEX CITY!
Bryan back in with the flying headbutt to Orton! King: "Where did he come from!?" Cole: "He just appears." YES lock on Orton! Hey wait, Triple H and Stephanie are back out! They pull the ref out to massive heat and some CM Punk chants haha. Spinebuster by Dave. Crooked ref Scott Armstrong is here. Batista Bomb to Bryan. 1, 2... Bryan kicks out! Mass YESing breaks out. Spear... eats the post. Cole: "This is one of the most pathetic things I've ever seen." Not gone back and watched your match with Lawler at Mania 27 have you? Crooked ref checks on Bryan only to get kicked - no DQ. The Authority try waking him up outside so Bryan SUICIDE DIVES ONTO ALL THREE!!!
Hunter sees Steph's down & is furious, so he gets his sledgehammer out (wit-woo). Bryan cuts him off and knocks him out with the sledgehammer, only for Batista to roll him up - 1, 2.... Orton saves it. Crowd: "THIS IS AWESOME". Randy beats the piss out of Daniel on the outisde. Dave joins in, tearing the tape off the injured shoulder. Orton with the steps to the shoulder! The crowd "Hey Hey Hey, Goodbye"s The Authority. Dave & Orton strip the announce tables, attacking Bryan with a monitor as Randy sets up the steps next to the tables... holy shit RKO BATISTA BOMB COMBO THROUGH THE TABLE!
There was a monitor that fell under the table & Orton landed on it back first which had to suck. A stretcher comes out for Bryan. He gets put in a neck brace & tied to the backboard to DANIEL BRYAN chants. Orton fights off Batista with a hangman DDT on the outside. Wait... Bryan's fighting off the stretcher - Orton can't believe it! He sends Bryan to the steps. Cole: "Randy Orton wants to make everyone in the Superdome suffer." Back inside, RKO... countered to the YES lock! Orton's in agony... Dave makes the save, so Bryan puts HIM in the YES lock. Orton breaks it up. RKO to Batista... blocked... Orton leapfrogs a spear by Dave that winds up hitting Bryan. Nice sequenRKOOUTTANOWHERE!!! 1, 2... Batista kicks out!!!
Orton lines up to punt Batista... BRYAN WITH THE KNEE! But Dave sends him outside and covers himself with a massive grin on him face. 1, 2... yeeeNOOOO! Dave: "C'MON!" Batista Bomb on Orton, but Bryan knees him in the face! YES LOCK BY BRYAN! BATISTA TAPS OUT! NEW ORLEANS LOSES IT'S SHIT!!!
Winner: Daniel Bryan (NEW CHAMPION, first reign)
Cole: "A miracle on Bourbon Street!!! One of the most incredible performances at Wrestlemania" YES YES YES!!! There's fireworks and streamers, with the confetti lingering in the air forever. Bryan's welling up. King"YESlemania!" Cole signs off with a very Vince McMahon-like "Goodnight from WRESTLEMANIA!"
Verdict: 8.5/10. This was a masterclass in overbooking. Bryan had the deck stacked against him and came up trumps. In many ways it felt like the triple threat from Mania XX (you know, the one that never happened nudge nudge wink wink) in that two guys with a personal issue were trying to take out a challenger out to prove he's legit so they could settle things themselves. There was lots of drama, and the sequences with just Orton and Batista exceeded my expectations too. This was high drama at its best, and a great moment for Bryan.
Final Thoughts:
Overall, I really enjoyed this show, just as much as when I watched it at the time. It was one of the best booked Wrestlemanias in recent history - The Shield squashing the Attitude Era leftovers, Cesaro getting a standout moment, the shock of the streak ending and Bryan overcoming the three Evolution alumni in one night to win the title. I can't remember a Wrestlemania that had such a strong in ring focus, as we got several long matches with very little filler or bullshit rather than lots of short matches with loads of celebrities shoe-horned in. Nearly all of the time spent outside of wrestling went to Rock Austin & Hogan which was a really cool sight. This show was a triumph and it was a great shame the company couldn't capitalise on the momentum created here.
Final Verdict: STICK
"My winky was a key!"