OK then, onwards we go. Unless you missed the first part, in which case you can catch up
here
.
Before getting my albums countdown back under way, I thought I'd give a brief mention of some of the tracks I've enjoyed, aside from what I'm mentioning in my albums countdown of course.
Honourable Mentions (Tracks)
SBTRKT feat. Ezra Koenig- "New Dorp. New York": Pure badassery on display here, that visceral throb in the beat sounds like the heartbeat of a demon. Meanwhile Vampire Weekend's Koenig partakes in some bewitching word play ("Gargoyles gargling oil", "Flags Flapping in Manhattan") and some feverish MJ style vocals that leave you expecting a "Ch'mon-AH" at the end ("MAH girl got a lim-o-zeeen!").
Johnny Marr - "Easy Money"/"Dynamo": I'm surprised that it's taken Johnny so long to released a disco stomper like "Easy Money" considering he named his son after Nile Rodgers. It perhaps caught those expecting him to just retread ground he covered with The Smiths by surprise (we have Morrissey to do that for us anyway) but for the rest of us it was one of the most instantly likeable songs of the year. The soaring guitars of "Dynamo" also make it the most beautiful tribute I've heard to such a boring building.
Flying Lotus feat. Kendrick Lamar - "Never Catch Me": FlyLo's Thom Yorke style jazz infusion take on hip hop never really clicked with me, but I was delighted that Kendrick came and filled that missing piece of the puzzle on this track, keeping things slick when they could have meandered off. It's a shame his album didn't make it out this year, the pretty swish Isley Brothers rework "i" being the only glimpse we got.
Little Dragon - "Paris": Again, Little Dragon still feel like there's one piece of the puzzle they need to find before I fall unreservedly in love with them, but singer Yukimi Nagano is definitely a keeper. This year's album Nabuma Rubberland was littered with gems including this one. Keys and synths feel like raindrops on a window, and Yukimi's delivery shines as always ("There's an angel knocking on my window; Tryna tell me where to go next").
Future Islands - "Seasons (Waiting On You)": Unlike most of the internet I'm not totally enamoured with Future Islands, but this song is undoubtedly ace. Heartfelt with excellent synth and bass work that drives all the way through to the chorus. Still doesn't excuse Samuel T Herring's dodgy crab dancing. I just don't buy him as the second coming of David Byrne, sorry.
Now back to my favourite albums...
Big, fuzzy indie pop has long been a love of mine, as have bands who play with a happy, pleasant sound masking slightly less happy subject matter. Alvvays (pronounced Always, the double v is to make them Google-able) not only tick all those boxes but completely fill them in from edge to edge in ink.

The production is spot on, with tonnes of echo from Molly Rankin's vocals and heaps of haze surrounding the instrumentation, as if you're hearing the band in a dream. The guitar work is very chirpy and never fails to leave me feeling like I'm floating on a cloud. The band themselves nearly put it best with the line "Floating through a dream; I never could make out the words you said."

Although that last part is not quite true. There's lots of terrific thoughts on highly relate-able anxieties; longing to make a good first impression in "Adult Diversion" ("If I should fall act as though it never happened") and living in mutual denial with someone you clearly love in "The Agency Group" ("When you whisper you don't think of my that way; When I mention you don't mean that much to me") being two prime examples.

The biggest triumph here though is feel good hit of the summer "Archie, Marry Me", a satire on the pressure young couples feel to get married ("They're talking about us living in sin") - but only if it's a big wedding they can't afford. Even so, there are moments that perfectly captures that feeling of devotion and joy of being with that special someone, and the music behind it is just as joyous. The bit in the second verse where the guitar fuzz goes into overdrive and the bass line takes a walk is just magical, and the air-punching enthusiasm of the "HEY HEY"s of the chorus is inescapable.
The perfect reminder of everything I love about guitar pop.
Download: "Archie, Marry Me", "Next Of Kin", "The Agency Group"
Cathartic and beautiful, this record sees Sharon open up and give one of the most emotionally honest records you'll come across. The assurance and growth she shows here is remarkable.
Sure, it's another break up record in a world full of them, but what Sharon brings to the table her is one of the most incredible voices in music today. I'm paraphrasing here, but I remember reading someone explain how people loved Johnny Cash because when he sang, you believed him. For me, that is the best way to describe what Sharon's voice is like: when you hear her, you believe and feel for her. When she pleads "I NEED you to be afraid of nothing" on the opener, her voice almost cracking on "NEED", you really feel how much she needs it. Her heartache becomes your heartache, and this is certainly a heartbreaking record.
There is a will to do better - "Tell me if there's something I can change; Recall I know what a sanctuary is" (the utterly captivating "I Love You But I'm Lost"), "I will meet you on your street; I won't let you down" (the delightful "Nothing Will Change"), but even in moments of bliss like the tender "Our Love" (the subject of the
best remix of the year
from The Juan Mclean), there is an uncertainty ("Still don't know what I have found").
Two tracks key to the tone of the album are the dramatic "Your Love Is Killing Me" and the defeatist yet anthemic "Every Time The Sun Comes Up".
The former is a tremendous showcase for Sharon's voice, soaring over huge keys and drums and starkly describing how desperately she wants to avoid her pain ("Burn my skin so I can't feel you; Stab my eyes so I can't see you").
The latter has such a beautiful chorus, and again fantastic drum work, as it gives a very minimal account of how Sharon feels she can do no right, including the frank line "I washed your dishes but I shit in your bathroom". It felt a clunker at first but I think I see where she's coming from now, as if she's saying "No matter what good I can do you, I will always be a burden".
Musically, though, she is the exact opposite of a burden and a truly remarkable artist.
Download: "Your Love Is Killing Me", "Nothing Will Change", "Every Time The Sun Comes Up"
Few album titles offer a more fitting description of the music featured than what The War On Drugs decided to christen their third album, which by all accounts appears to be a breakthough success. There's an ethereal, other worldliness to
Lost In The Dream
that makes it feel like a journey of understanding, meandering through towards clarity, losing and gaining and your grip on reality. Oh, and it's also one of the best rock records of the year.
Opener "Under The Pressure" gives a clear indication of what's to come. This is a record where space and build are crucial in helping you form a connection to the world you're being sent to, and over its near 9 minute run time this opening salvo makes a strong impression. Nearly a third of its run time is taken up by drip feeding the closing moments of the song, making it feel like it's fading into the fog. Plenty of its best devices reoccur throughout the album.
The drum loops that kick things off later form the heartbeat of "Disappearing" and the show stopping "An Ocean Between The Waves", which also builds anticipation and intensity masterfully. Closing track "In Reverse"uses a similar approach, with the initial guitar parts feeling like the ripples from a stone being skipped across the water, before the brilliant chorus begins to drive the song home ("And I don't mind you disappearing; Because I know you can be found").
Also present throughout the album is some really sweet use of the tenor saxophone, especially on the beautiful "Eyes To The Wind" ("I'm just a bit run down here at the moment; Let me think about it babe") and the gentle anguish of "Suffering".
What's really impressive about this record is the sequencing and how the sparser moments are used to heighten the impact of its biggest, most driven rock songs. "Red Eyes" is one of the best rock singles of the year and feels like a real thunderbolt coming after "Under The Pressure" fades away. Meanwhile "The Haunting Idle" is basically just a three minute intro to the magnificent "Burning", a synth rock monster that owes a great deal to
Born In The U.S.A.
era Springsteen. The sugar rush of the second verse bringing the backing vocals in is just sublime ("WHEN YOU RELEASE ME FROM YOUR HEART AGAIN! WOO!"), and puts me in mind of Bruce & Steve getting into it. On the flip side, the stunning title track puts me in mind of modern day Bruce and is one of the most touching moments on the record.
Leaps and bounds ahead of the game, The War On Drugs deserve the success this album has brought.
Download: "Red Eyes", "An Ocean In Between The Waves", "Lost In The Dream"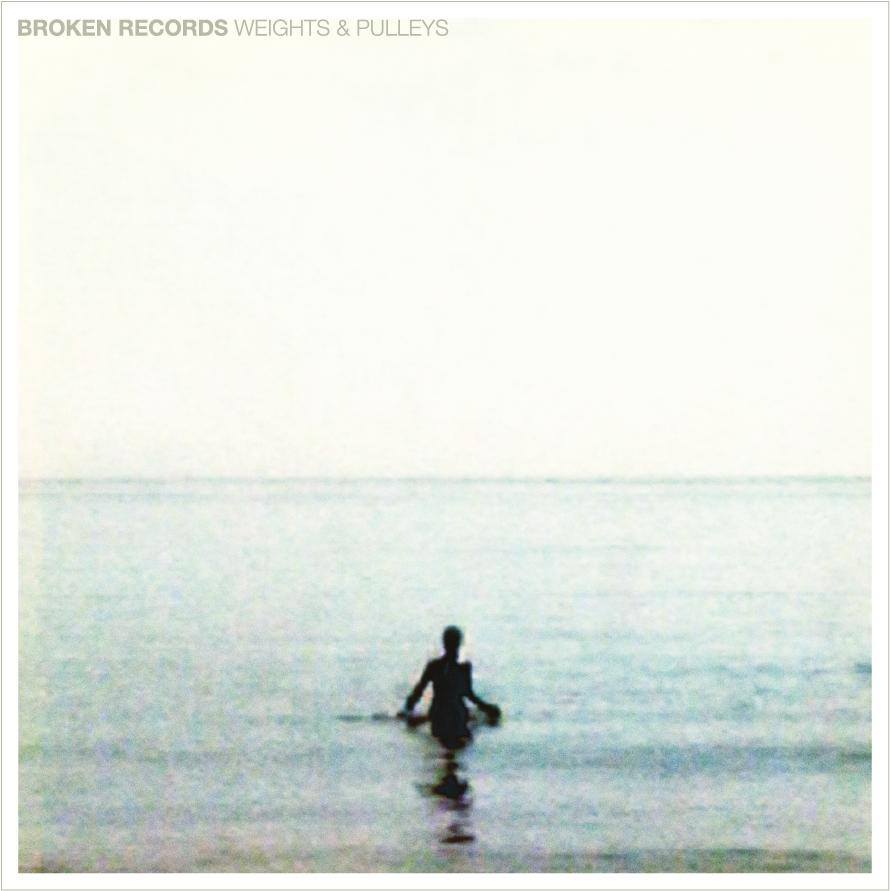 Broken Records and I go way back. Getting championed by Planet Sound's John Earls is always a good way of getting my attention. In fact I remember they were so thrilled at making PS's Top Singles of the year list in 2008 that they posted a big spoiler, putting the full list up before PS themselves had revealed it, which I promptly pointed out to them on Myspace (remember that?). More recently my Mum somehow wound up posting on their Facebook page about how there was a microwave on offer in Asda, thinking she was talking to me. God, parents eh?
Anyway long story short I love Broken Records. I've always felt they are Britain's answer to Arcade Fire, and the four year(!) wait for a follow up to
Let Me Come Home
has felt like an eternity. Thankfully they're back to fill that void they left in my life, with a record of great variety, verve and vigour.
You'd think things had peaked early on with the blistering "Winterless Son", with every iota of the band's vast instrumentation firing ahead at full force, the impact being even greater for following opener "Ditty (We Weren't Ready)" with its unique percussion and ace weepy guitars. "Toska" then follows things with the keys and strings dominating proceedings. This is what's great about having such a strong line up of musicians, it gives you so many options to go in so many different directions. All of which are tied together by singer Jamie Sutherland's brilliant delivery - I've always admired singers who can keep their native accent in their voice and Jamie is no different, instantly making all those Scottish artists who sing in a yanky twang sound like knobs.
We then get guitars ringing out like sirens on "So Long, So Late", with added "Cuyhaoga" references ("Well the river it did not burn, but these towns are still dead and gone") and the delightful title track with its infectious hand claps and "I'm On Fire" style "Woah-oh-oah"s. Proceedings then mostly flip between break neck rockers like "Let's Call It A Betrayal" and the fantastic "I Won't Leave You In The Dark" (with an absolutely glorious performance from the horns section at the closing sequence, including a huge feel-good sax break worthy of the Clemons family name) and gentler missives like "You'll Be Lonely In A Little While", but the energy levels and passion never drop whatsoever right to the very end of closing ballad "All Else Can Just Wait".
Well, maybe not all else. I don't want to wait another four years for the next one please guys! Oh, and thank you for the
Christmas single
.

Download: "Winterless Son", "Toska", "I Won't Leave You In The Dark"


Despite what the Nashville episode of Foo Fighters' "Sonic Highways" will have you believe, there's fucking loads of great country music at the moment. I've already mentioned Sturgill Simpson and Lydia Loveless, but this year also saw the excellent
Colfax
by The Delines, First Aid Kit's major label debut
Stay Gold
,
Platinum
by Miranda Lambert,
Tarpaper Sky
by Rodney Cromwell and
Terms Of My Surrender
by John Hiatt to mention but a few.
But beyond question the cream of the crop came from a true member of country music royalty. For me personally this was the most richly rewarding listening experience of the year. I can't claim to be an expert in Rosanne's work. The only other album of hers I own being previous effort
The List
, but I get the sense listening to this record that this is the most secure she's been in her identity in a long while, and no doubt this exploration of her southern roots is the main driving force behind that.
The travels and travails of the South have inspired a vivid picture of Memphis, Mississippi and Florence and living with the legacy of her roots, but still maintains that unquantifiable warmth that comes from being home. No where is this warmth more evident that on the gorgeous "Etta's Tune", a touching tribute to her father's former bassist Marshall Grant and his wife Etta. "What's the temperature, darling?" Cash coos, as she recounts a tale of devotion ("I travelled for a million mile while you were standing still") and an apparent acceptance of the end ("Don't stare into the past; There was nothing we could change or fix, it was never going to last").
There's an inescapable draw that comes from home, which comes to the fore of the zippy "Modern Blue" - not even Paris or Barcelona can overturn the pull of your roots. Fruitless attempts to avoid the call of home crop up again on the revelatory "A Feather's Not A Bird", as Rosanne bemoans "I took the long way home just to wind up in your arms" with expert delivery. Seriously, she can show more strength and depth of character in one line or phrase than other artist do in entire songs.
"A Feather's Not A Bird" is also a shining example of the other central theme of the album; reaffirming identity. This carries over to the cheery "50,000 Watts" ("We'll be who we are, and not who we were") as well as the poetic "World Of Strange Design", featuring a lovely nod to her father ("Now I'm a jewel in the shade of his weeping willow tree"). The best exploration of this theme, though is in Civil War tale "When The Master Calls The Roll", as Cash uses the story of the war derailing the courtship of two young lovers to express the conflict of love of her home and shame over the war, with some real heart-twinging lines ("I will never travel back to her; But not for lack of trying").
A true masterpiece that stands shoulder to shoulder with her father's best for sure.
Download: "A Feather's Not A Bird", "Etta's Tune", "When The Master Calls The Roll"
Are you still here? Oh good, well you've lasted the whole way, yay! Just remains to say have a wonderful Christmas and all the best for New Year.