Hi all. Powered through a whole bunch of stuff in about a fortnight so thought it'd be a good time for an update.
When I've not been listening to music, I've been volunteering for
Manchester Science Festival
, which is always fun. This was the fifth festival I've volunteered at and the line up this year was definitely one of my favourites.
Most
of my time this year was spent building countless cubes out of business cards in aid of the Megamenger project, helping build the world's largest fractal, and helping out at the Hooked on Music results event. I'm sure you've seen recently how "Wannabe" by the Spice Girls was declared the nation's catchiest song - well Hooked on Music was the project behind that study. It's all in aid of trying to figure out what makes music catchy and the hope is that the research could possibly benefit Alzheimer's patients in the future.
You can still
contribute to the study by playing the online game at
www.hookedonmusic.org.uk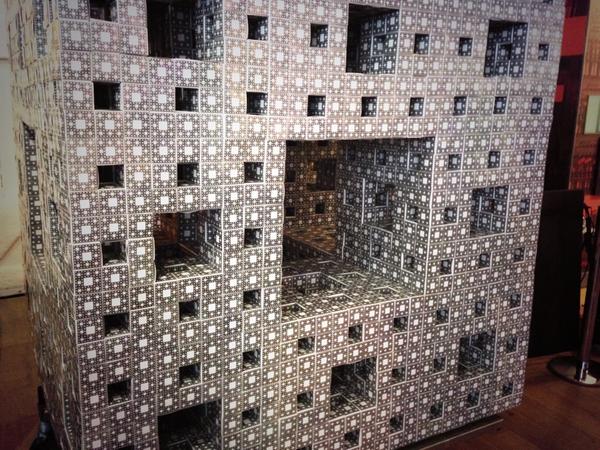 So yeah, some maths, some music, and plenty of engaging the public in science. Good times all round.
Anyway, on to my own personal musical study. The vast majority of what I played this time around was from the seventies, in an attempt to round off that decade (now only got about a dozen to go).
Shivkumar Shama, Brij Bhusan Kabra & Hariprasad Chaurasia - Call Of The Valley/Ravi Shankar - The Sounds Of India
A pair of pretty relaxing listens here. Call Of The Valley was especially therapeutic, no doubt inspiration for The Beatles' "Within You Without You". Meanwhile Shankar's Sounds Of India was a more informative experience, as Ravi talked through how Indian music operates and what sets the machinery behind it apart from western music.
Roxy Music - Country Life
Much better than what I'd previously heard from Roxy on this list, the likes of "The Thrill Of It All" and "All I Want Is You" contained the energy I felt was lacking in their other album ("Virginia Plain" aside). This record is also famous for its highly NSFW
album sleeve
.
Randy Newman - Good Old Boys
Yes, it's the Toy Story guy again, although it was a little jarring to hear him tackling race issues in "Birmingham" (even saying the N-word). "Mr. President (Have Pity On The Working Man)" was a much better "issues" song, and "Marie" was up there with his Disney Pixar magic. I still don't know why
Family Guy
have it in for him.
Gram Parsons - Grievous Angel/Emmylou Harris - Pieces Of The Sky
Two of country's best whose lives were greatly intertwined. Emmylou is all over Gram's Grievous Angel, an album he sadly wouldn't live to see released (26 is no age to go). "Love Hurts" is a genuine classic, and there's simply no faulting the enthusiasm of "I Can't Dance" and "Ooh Las Vegas". Meanwhile Emmylou's own Pieces Of The Sky is as measured and heartbreaking as one would expect, "Too Far Gone" and a brilliantly reworked version of The Beatles' "For No One" being among my favourites. It's particularly moving hearing her sing of "a love that should have lasted years" on the latter given what happened to Gram.
The Dictators - Go Girl Crazy!: Not much doing here except for an interesting take on Sonny and Cher's "I Got You Babe".
Burning Spear - Marcus Garvey
Fun fact - Guy Garvey from Elbow has a brother called Marcus. This is definitely not the Marcus Burning Spear is on about when they bemoan "No-one remember old Marcus Garvey" though. Instead it's the Jamaican political activist. Naturally the album is very political ("Slavery Days") but this still remains a pretty relaxing listen and one of the better reggae albums I've come across on this list.
Earth, Wind & Fire - That's The Way Of The World: Sadly no "September", but "Shining Star" can be added to the list of those songs I've been hearing everywhere without realising what they were.
Tom Petty And The Heartbreakers - Tom Petty And The Heartbreakers
This was surprisingly concise, although I'm not sure why I got the impression The Heartbreakers were a bit of a meandering group. Maybe it was that
FOUR HOUR documentary
someone made about them. Also it's interesting how much Petty sounds like George Harrison on this record, given they'd wind up together in the Travelling Wilburys. Check out "Strangered In The Night" and "American Girl".
The Modern Lovers - The Modern Lovers: Opener "Roadrunner" ("I'm in love with the radio on RADIO ON!") was tremendous but sadly nothing else really stuck with me.
Joan Armatrading - Joan Armatrading: A tremendous voice and lots of soul will always put you in my good books. It also helps if you've got a song like "Love And Affection" in your playbook too.
Parliament - Mothership Connection: I never expected a band with a name like that to be a massive funk outfit. You've probably (like me) been loving "Give Up The Funk (Tear The Roof Off The Sucker)" for years without realising.
Peter Frampton - Frampton Comes Alive!
I had a hard time listening to this without thinking of Frampton's appearance on The Simpsons. ("Do you feel... do... do you feel?") I found it weird how he was seen as this really cool act in that episode when the whole plot revolved around Homer being out of touch and stuck in the seventies. Not to my tastes.
The Stranglers - Rattus Norvegicus
Yet again, I encounter another track I can finally put a name to - "Peaches" is that one with the organ that goes "do-do-do, de-do-do-do-do". It wasn't the only thing on offer here either, go check out "Hanging Around" for another brattish classic.
Talking Heads - Talking Heads '77
I don't know how it's taken me so long to listen to this album after I blasted through the other Talking Heads albums on this list in quick succession. I was pleased to find this was up to the standards of their other efforts, greatly highlighting David Byrne's lyrical quirks. My favourite lyric here was "Some civil servants are just like my loved ones, They work so hard and they try to be strong" on "Don't Worry About The Government". Oh and of course there is the unmitigated brilliance of "Psycho Killer".
Dennis Wilson - Pacific Ocean Blue: This album could go from brassy to delicate in a really deft manner, even in the same song (see "Time"). Interesting.
Pere Ubu - Modern Dance, Dub Housing: Neither of these really impressed. Dub Housing was a surprising improvement on Modern Dance initially before descending once more into utter bollocks.
The Only Ones - The Only Ones
Not quite a match for their other peers in punk like The Saints or The Undertones, but in "Another Girl, Another Planet" they have one of those truly timeless, joyous songs that not even copious overuse by Vodafone can spoil.
Big Star - Third/Sister Lovers
Patchier than #1 Record, although that's a given since it was made under intense presure after that record and its follow up both flopped. It still merits a listen though, with the punchy "You Can't Have Me", the gorgeous "Blue Moon" and a great version of The Velvet Underground's "Femme Fetale" being particularly ace.
The Youngbloods - Elephant Mountain: Pretty typical sixties fare with some sub-Van Morrison vocals. Only "Quicksand" seemed ot have anything to offer. Meh.
Willie Nelson - Red Headed Stranger
I'm Not sure why Willie seems dead set on disappointing me, but he just does. Occasionally everything falls in place and his sentiment really connects with me like on "Remember Me (When The Candle Lights Are Gleaming)" but it's still frustrating to be listening to this leading light in country music and to merely feel... indifference I guess. Something's missing...
Elis Regina - Vento De Mario: Once again we have a samba/latino style album that has been greatly influenced by disco. Never thought I'd see more than one of those around.
For me, this is the total opposite of David Byrne's work, the perfect example of people taking quirky too far. There was a nifty version of "Downtown" to close things out, but stuff like "Rock Lobster" is just tosh in my book, as I'm sure you've seen on Family Guy.

Two Family Guy references in one post? Blimey.
Marianne Faithfull - Broken English
I was surprised to hear a lot of electro-style production in this record, I had the impression she was more of a folk singer. The politicised title track is a highlight, along with the startling "Why'd Ya Do It", where Faithfull comes across like a female Nick Cave turning the air blue with what Ron Burgandy would call a "dirty, whorish mouth".
The Soft Boys - Underwater Moonlight
Hey look, it's R.E.M.'s mate Robyn Hitchcock! This was just a joy all round, bursting out of the gates with the catchy harmonies and crunchy guitars of "I Wanna Destroy You" and keeping the standard high with the likes of the clattering "Tonight" and the jangly, Byrds-meets-Springsteen guitar play of "Queen Of Eyes".
Echo And The Bunnymen - Crocodile: It was Halloween when I listened to this, and with the production and tone of this album it was certainly rather appropriate.
Judas Priest - British Steel
Aha they made a joke in the album title. Because they play heavy metal. And their British. Anyway while not quite hitting the height of the likes of AC/DC they never disgrace themselves either, with "Breaking The Law" and "Living After Midnight" particularly having lots to offer.
Seems like the theme from my last post of cover versions being the standout tracks has bled over a bit, as we've got yet another instance here. This group are spunky enough with some Siouxie-esque vocals, but they only truly hit their stride covering Marvin Gaye's "Heard It Through The Grapevine".
The Specials - The Specials
Plenty to like here from ska pioneers The Specials, maintaining a perfect balance between attitude and catchiness with classics like "A Message To You Rudy", "Monkey Man", "Too Much Too Young" and "Little Bitch".
Gary Numan - The Pleasure Principle
While I've always loved "Cars" I never imagined Numan could have made an album this consistent. Synths a plenty here, with "Airline" and the blissful "Complex" being standouts. Further evidence of the album's influence can be found on "M.e.", which would be sampled on Basement Jaxx's "Where's Your Head At?". Pure Class.
The Undertones - Hypnotised
Another home run from John Peel's favourites here, the charm of "Under The Boardwalk" is irresistible while the wit of "More Songs About Chocolate And Girls" and "My Perfect Cousin" is tremendous.
Sam Cooke - Live At The Harlem Square Club
Perhaps he didn't have the edge of, say, James Brown, but oh my lord what a fabulous entertainer Sam Cooke was. His interaction with the audience was really something, giving this performance a marvellous energy. Oh, and his voice was pretty incredible too.
Adam And The Ants - Kings Of The Wild Frontier
If you're under a certain age you're probably thinking "Hey, it's that bloke from this week's Never Mind The Buzzcocks that wasn't Paul Foot". But Adam Ant was a bit of a sensation in his day. "Antmusic" and "Don't Be Square (Be There)" were catchy as hell. I also loved the sleeve for this album, with that fuzzed out effect like somebody photographed a TV screen.
I also made my way through the following, which failed to make much of an impression...
Robert Wyatt - Rock Bottom
The Cramps - Songs The Lord Taught Us
The Residents - Duck Stab
The Crusaders - Street Life
The Germs - GI
Weather Report - Heavy Weather
Jorge Ben - Africa Brasil
The Adverts - Crossing The Red Sea With The Adverts
Cheap Trick - At Budokan
With that I'll close things off. Let's hope I get through the next lot as quickly. See you soon!