So if you didn't realise it was festival season yet, along came Glastonbury, which should have well and truly set your festival season klaxons off. As usual I was nowhere near organised enough to jump through the hoops they make you tackle if you want tickets, and like most people I've been stuck at home making do with the BBC's coverage.
They've put a generous amount of people's sets up on their website and I've been trawling through them all week. I was disappointed to find some bands' performances weren't online (I'd have loved to have seen First Aid Kit, Jagwar Ma, Suuns and Dog Is Dead in particular), but there was still more up than anyone could feasibly watch.
Anyway, here's my two cents on what I had chance to watch: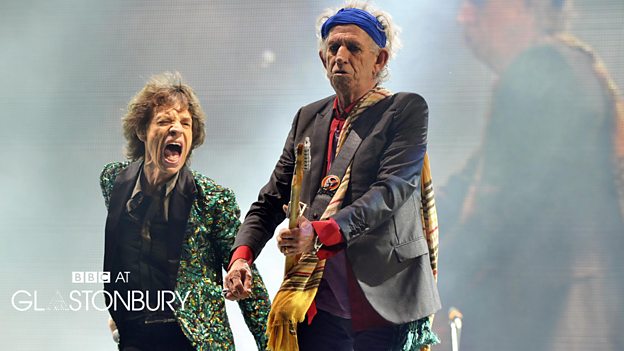 So obviously the big headliner everyone was interested in this year was The Rolling Stones, and understandably their showing has divided opinion. Many are like "Dude they're like 70 WTF? They should quit before they pull a hip out!" while others were more "About time they came to Glasto!"
I personally enjoyed their set (well, what the Stones allowed the Beeb to broadcast). Even though poor Keef looked a bit lost at times to say the least, and Ronnie and Jagger were basically having to carry the band. I appreciated the lack of any guest stars, especially given the standard of some of them on their US tour (Taylor Swift & Katie Perry, seriously?), and the band weren't totally resting on their laurels with "2000 Light Years" sounding great in a rare outing, and the closing "(I Can't Get No) Satisfaction" was about as great as the band are ever going to be in their advancing years.
On the other end of the age-scale were The Strypes. With most of their members still in their mid-teens you'd have forgiven them for being intimidated by the thought of playing the John Peel Stage, but they looked right at home and played with the assurance of men twice their age. A cracking bluesy-rock outfit much in the vein of early Stones, I reckon the odds of these guys headlining a future Glastonbury were slashed after this performance.

Also of note on the John Peel Stage were the uncompromising Savages. Known for taking themselves very seriously, they nevertheless delivered, with the terrific riffs of "She Will", "I Am Here" and "Husbands" coming through in spades. Deap Vally were similarly entertaining and certainly a raucous way to begin an early Sunday afternoon. When they avoided some of their more sub-Jack White numbers they delivered some great good old fashioned rock n roll.

In complete contrast to the moody Savages was the positively giddy Jessie Ware, who's voice was a delight to hear when she could keep herself from the obligatory "HELLO GLASTONBURY! OMG, YOU'RE SO FAR AWAY!". Her onstage chatter stayed just the right side of endearing ("I once saw Florence [Welsh]" climb that [stage scaffolding]. That ain't happening today!") and when she resisted the urge to get gobby mid-song she outshone her band.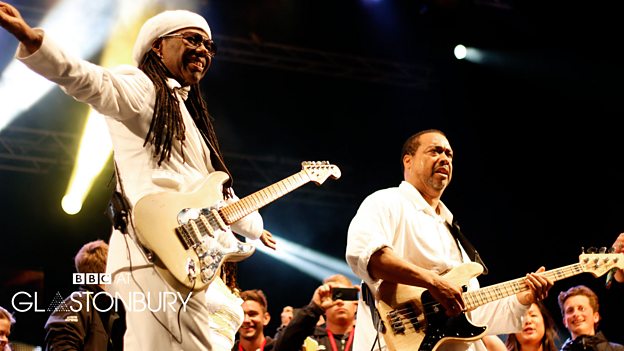 West Holts Stage featured a fair few acts that were sleeper hits in my book. The vibrant Toro Y Moi had a great outing, aided by some colourful background displays and a funky set list full of really danceable numbers. I'll have to check them out again sometime.

Twitter seemed abuzz with praise for Public Enemy but I'm ashamed to say I gave up after half an hour. With Flavor Flav missing, Chuck D was left to practically carry the load himself. While he's an amazing MC, the fact that he only did his parts of their songs meant you got a couple of verses before he started preaching about "Fuck the Government" and stuff. Sorry, but I wanted to hear music not a lecture.

The undisputed King of West Holts though, was Nile Rodgers, whose band Chic put on possibly the set of the festival. Pure non-stop hits - "Good Times", "I'm Coming Out", "Spacer", even Bowie's "Let's Dance" - you'd be startled these all came from the mind of Rodgers if you weren't dancing so much!
Some acts needed very little time warming up in the ball-pin so to speak to get in their groove. When Phoenix roared out of the blocks with a blinding "Entertainment", then played "Lisztomania" only a few songs later, I was worried they'd run out of steam and familiar songs pretty quickly. However, they clearly knew what they were doing and went on to deliver a thoroughly likable set.
Vampire Weekend similarly got right to business and delivered big time with their sharpest, most rambunctious songs like "Cousins", "Diana Young" and "A-Punk" all present and perfectly formed. With the songs from their most recent album, Modern Vampires Of The City particularly shining, they're quickly developing into a must-see act.
Other bands, however, talk a little while to really settle in. Dinosaur Jr. were unlucky to be beset with technical difficulties at the start, with J Macsis' voice almost inaudible. They never seemed to recover, despite whipping out their cracking cover of The Cure's "Just Like Heaven".

Nick Cave & The Bad Seeds sounded surprisingly shakey at first, but after a remarkable turnaround midway through "Jubliee Street" - where it morphed into a Pogues style ramshackle breakdown - the band seemed to kick it in a higher gear. "From Her To Eternity", "Jack The Ripper" and "Stagger Lee" (where Cave seemed to have hypnotised a young woman in white in the crowd on someone's shoulders) were all staggering (apologies for the pun), while "People Ain't No Good" and "Push The Sky Away" were delightful and poignant.

Unsurprisingly given some of her health issues and past on-stage breakdowns Cat Power didn't appear to start out her set in the best of voice. She covered for herself pretty smartly however, by keeping many of the heavier songs from her recent Sun album prominent in her set so that her voice didn't have to do all the work. This bought her the time she needed to settle in and give a really terrific performance with the likes of "Manhattan", the recently emerged "Bully" and "Nothin' But Time" all sounding gorgeous.
Honourable mentions must also go out to Portishead for a brilliant set that included a fantastically evil image of David Cameron with frickin' laserbeams coming out of his eyes during the equally unnerving "Machine Gun", Arctic Monkey for somehow making that string arrangement of "Mardy Bum" work, Rodriguez for the best onstage joke...

So Mickey Mouse and Minnie Mouse are at a marriage counsellors office, and the marriage counsellor turns to Mickey and says, "But Mickey, being stupid is not grounds for divorce". And Mickey said "I didn't say she was being stupid, I said she was fucking Goofy"

...and a dishonourable mention must unfortunately go out to alt-J for their terrible mash up of "Slow" by Kylie Minogue and Dr Dre.
The thing is though there's still so much more to check out. I've still yet to see Lianne Le Havas, Haim, Smashing Pumpkins, Peace, Daughter and Bobby Womack to name but a few.
It's this kind of range and depth of artists performing that really make Glastonbury the best festival in the world. I'd love to go some day, but for now I'll make do with what the BBC has generously left at my fingertips.