This past weekend I grinned and bared the queasy feeling travelling on the pendilino gives me to venture down to London. I'd been looking forward to this trip for a long while and one of the things I was determined to do there was visit the V&A to attend the "David Bowie Is" exhibition.
Doing so was actually quite an undertaking - online tickets had sold out due to phenomenal demand, with 67,000 tickets sold in advance making it the V&A's biggest box office attraction for advanced booking, and the exhibition has now received over 200,000 visitors.
The only tickets still available were the 450 released daily at the V&A itself. On the Friday of my trip I arrived a little over 20 minutes before the museum opened and this is the queue I was faced with...
David Bowie is making me queue
In addition the ticket desk only had three tills, so I was in this queue for a good 80 minutes before - for the grace of God and the 430 bus to South Kensington I'd caught earlier - I had my ticket! Having booked for as late in the evening as I could, I then commuted to my conference on a cloud of optimism (which in reality was a Picadilly Line service to Green Park) and looked forward to meeting my friend and coming back for the exhibition.
At the start of the exhibition you are given a handheld audio guide, which interacts with the displays. So for instance, if you wandered over to the section on the "Berlin era", you'd hear the audio accompanying a video of an interview Bowie gave at the time about how he was at last enjoying life and how he was expressing himself with his paintings.
(I loved the Berlin-era, you could really tell David was a lot healthier and his hair was lovely and fair in contrast to the lurid blond dye of the Thin White Duke era.)
This was a nice accompaniment, although quite often the audio would kick in when you were around the corner from the relevant display, so for example you'd wonder why as you headed further into the gallery you could hear snippets of "Boys Keep Swinging" before seeing it was part of an overview of David's androgyny.
Naturally much of the start of the exhibition was devoted to David's upbringing - to my friend's delight he grew up in Bromley, Kent just like her - along with early inspirations such as Elvis Presley and Lonnie Donegan (to paraphrase a quote from Bowie "Elvis made me want to be in music, Lonnie Donegan inspired me into thinking I actually could be a musician") and his first forays into music with The Kon-Rads and Davie Jones And The King Bees (he later changed his stage name to David Bowie to avoid being confused with Davy Jones of The Monkeys)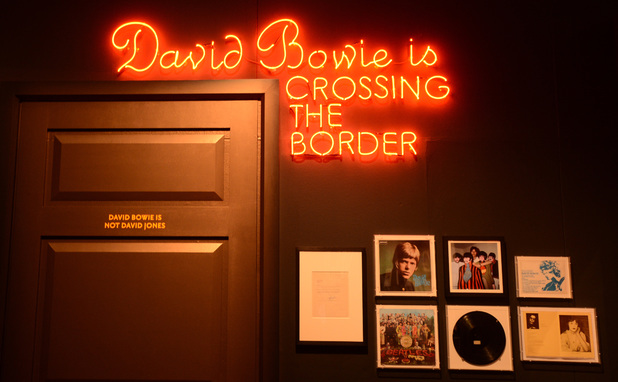 Also prominent in welcoming you to the exhibition was this outfit Kansai Yamamoto created for David...
Yamamoto-San's work would also be prominent later on, including many outfits inspired by Bowie's love of Kabuki (a form of Japanese theatre) - one in particular left little to the imagination with its short length.
The layout of the 300 plus items on offer followed a roughly chronological order - from breakthrough hit "Space Oddity" to rough notes planning the "Diamond Dogs" tour and storyboards for the "Hunger City" film said album would have inspired, via the Ziggy Stardust era and - one of my favourite items on display - the jumpsuit he wore during his star making performance of "Starman" on Top Of The Pops.
(Said song is one of my earliest musical memories - I once sang it when my mum took me out in my buggy past what would later be my primary school. My singing drew the attention of my future Headmaster, who according to mum had a look on his that read "Christ what am I in for if he comes here?!")
"I had to phone someone so I picked on you"
While you did sort of move through the passage of time as you progressed through the exhibition, the displays were much more thematic than they were a definitive timeline of David's career. Although said themes did re-occur when he underwent a significant metamorphosis in his career (which happened a lot!). Prominent examples included:
His interest in performance art, including encounters with Andy Warhol and forays into mime and an interest in clowns that would come to the fore most during Scary Monsters...)
David Bowie is in full motion
Technology used for his music, such as the synthesisers he used in Berlin and a curious computer programme that took articles from the Internet and cut up words from then in an attempt to find lyrics - like a digital version of how he used to write lyrics, cut them out on pieces of paper and shuffle them around.
His use of the music video, with costumes, props and storyboards used in "Ashes To Ashes", "Life On Mars" and "Where Are We Now?"
Use of androgyny to liberate a generation, especially in the Hunky Dory stage of his career and inspiration from Japan and the drag artists of Berlin.
Fashion (obviously) - the place was littered with his outfits, with many of my favourites being from his "Stage" tour and many of the simple black and white suits from the Thin White Duke era. The further into the exhibition you got the more the focus became his live outfits, accompanied by massive screens showing infamous performances such as the final leg of the "Ziggy Stardust" tour where he broke up the Spiders From Mars on stage (without telling them beforehand!). Another eye-catcher was a ridiculous outfit he wore on SNL to promote the "Stage" tour which made him look like a bottle of maple syrup dressed in a tuxedo.
David Bowie is the height of fashion
Album artwork, with lots of great images from the shoots for Aladdin Sane and Diamond Dogs, a massive print of the Scary Monsters sleeve and lots of interesting prototypes to The Next Day artwork.
His film career, with posters and paraphernalia from "The Man Who Fell To Earth", "Labyrinth" and a bizarre film where he was cast as Andy Warhol.
David Bowie is The Man Who Fell To Earth
With so much to look at it was a good job I didn't attend on a day when they only gave out timed tickets, my friend and I spent two hours taking it all in!
I'd be hard pressed to name a favourite item/aspect of the exhibition, but for me seeing a lot of the handwritten stuff was a particular delight. Below are two examples - David's hand-drawn storyboard for the "Ashes To Ashes" video and rough lyrics to "Lady Stardust". Just something about these types of items added a human element to proceedings - Bowie's so often wrapped up in extraordinary characters, make-up, outfits and concepts it can be easy to think of him as being not of this planet. But it was fascinating to see the humble beginnings of some of his most famous work in his scrawled handwriting and sketches.
"David Bowie Is" runs at the V&A until August 11th before being toured 'round the globe starting in Toronto. I thoroughly recommend it for any Bowie obsessive and urge you to try and make it before it closes.