Well once again, this is the first time in a fair while I'm touching this blog. Life has kept me busy with exams, interviews and things to organise. So there's lots that's been new with me.
As per usual, though, I've added a whole heap of music to my collection since the last time I blogged, which brings me on to the topic of this entry.
Lord knows I already own plenty of music, way too much for my iPod to hold. Yet I'm addicted to constantly finding music that's new to me and resonates with me.
Often it only takes one song. either a song that's constantly on the radio and grows on me, or a song that I'm hearing for the very first time that makes me stop in my tracks and think "wow, that was something special". Then I want to delve further into that artist's body of work. This mostly results in me having new found appreciation for that artist and wanting to continue to have their music in my life.
This is probably a result of me being a child of the
Spotify
generation (which I've used since the day it launched in the UK). Certainly having instant access to most artist's back catalogues has helped quench my curiosity. But more often than not, if I enjoy a record after streaming it a few times, I'll eventually buy said record when it's fairly cheap.
Here are a few examples of what gems my impulsive listening habits have brought me to recently:
James Vincent McMorrow - Early In The Morning
Who here remembers seeing this advert lots over Christmas?

(Shame I couldn't find the one with Riz Ahmed going "It's more than just a DVD blud!")


Anyone else heard that music and think "What Bon Iver track is that?" Well it's actually Irishman James Vincent McMorrow, believe it or not covering "Higher Love" by Steve Winwood.
I only discovered this fact when Amazon chose his album, "Early In The Morning" as one of their albums of the week, for a mere £3.99. After giving it a quick stream I found myself liking it. McMorrow's voice may indeed bare a resemblence to Justin Vernon's, but his songs stand up on their own merit. "If I Had A Boat" and "Sparrow And Wolf" are particular favourites of mine.
The Flaming Lips - The Soft Bulletin, Yoshimi Battles The Pink Robots
In this case I wasn't spurred on by one particular song. I bought "At War With The Mystics" when I was at secondary school, I'd already streamed "Yoshimi" lots and I've had "Race For The Prize" for years thanks to a friend putting it on a mixtape she made me.
No, the straw that broke the camel's back here was when I heard the band were headlining Parklife, and
I wanted to get into the band's material more in case I went (although I've subsequently realised I don't think I can go due to work commitments).
So I found these two albums the next time I was in town (they were 2 for £5 in That's Entertainment) and thought "why do I not own them yet?".
I'd not actually listened to "The Soft Bulletin" before I bought it, but I'd always heard it was the better album and I'm enjoying it even more than "Yoshimi", since I already knew what my favourites were on that album (the two title tracks and "Fight Song" in particular).
I love lots of the subtitles of the songs: "Race For The Prize" is subtitled
"Sacrifice of the New Scientists", which would make a great band name in my opinion, whereas "The Gash" wins a place in my heart for having the subtitle "Battle Hymn for the Wounded Mathematician".
I think I enjoy "The Soft Bulletin" more because every song has a mix of experimentation and pop hooks, whereas on "Yoshimi" it's more balck and white, and each track is either a pop song or a completely off the wall experiment.
Nick Cave and the Bad Seeds - The Boatman's Call, No More Shall We Part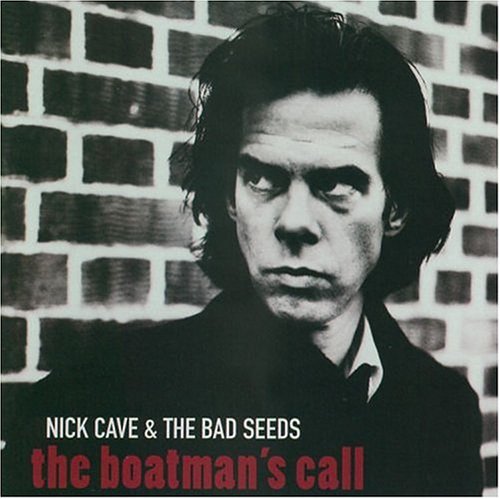 This is probably the most typical example of how I get into music nowadays.
As an Elbow fan, I regularly listen to "Guy Garvey's Finest Hour" on 6Music. The theme of this week's show was songs about letters, and near the end of the show, Guy played "Love Letter" by Nick Cave and the Bad Seeds.
Now I quite liked Nick Cave prior to hearing this song. I bought "Dig, Lazurus, Dig!!!" in college after being enchanted by
"More News From Nowhere"
, and I knew a few of his songs. But this song really blew me out of the water: the majesty of the piano, the subtlety of the strings, Cave's always unique delivery and the lyrics - in particular the first verse,
I hold this letter in my hand,
A plea, a petition, a kind of prayer.
I hope it does as I have planned,
Losing her again is more than I can bear.
I kiss the cold, white envelope.
I press my lips against her name,
Two hundred words. We live in hope,
The sky hangs heavy with rain.
I was mesmerised. I'd never really associated Cave with such romanticism. I knew he wrote
"Into My Arms"
but I thought that was a one off.
So I did my research, and found "Love Letter" was taken from the album "No More Shall We Part".
Upon streaming it I found many of the other songs had the same impact on me with lots of great narrative and lyrics. In particular "Hallelujah" ("My typewriter had turned as mute as a tomb, And my piano crouched in the corner of my room, With all its teeth bared"),
"Fifteen Feet Of Pure White Snow"
, "The Sorrowful Wife" and "Darker With The Day" ("Time moved so rapidly, I had not hope of keeping track of it") were stand-outs.
I also discovered that the album's predecessor, "The Boatman's Call", was the album "Into My Arms" was taken from, so I gave that a listen and fell in love with that as well. The album is even more stripped back and disciplined than "No More Shall We Part" - while that record would occasionally lash out and reach a big old crescendo, "The Boatman's Call" remains disciplined and tender, with the piano taking the lead on most songs. Many of the tracks, such as "Lime Tree Arbour", "Far From Me" and "Where Do We Go But Nowhere?" struck a chord with me. Cave said this was his most personal record and it definitely shows.
Is this the way it is for most people? When you've come across an artist you like, is there one track that reels you in? Or is it something else? Perhaps you were happy just to keep listening to the song you've found and not investigate further? I'd love to hear people's thoughts.
Cheerio for now.