Well this has been a pretty remarkable year, the busiest ever for this blog at least. This year saw me welcome a Wii U into my life, trips to Madrid, Geneva and France, and yes, of course I loved Star Wars to death.
But as per usual it's been a year filled with fabulous music and a whole heap of great gigs. So once again, in the spirit of giving the year a nice little pat on the back, here I am going over what music I enjoyed the most. As usual, this is a list of my ten favourite albums of the year - the albums I've drawn the most personal enjoyment out of rather than the ones I objectively think have been the best. But first up, a few honourable mentions.
Honourable Mentions
PINS - Wild Nights: One of my favourite trips this year was venturing to Leeds for one day festival Gold Sounds and this album always brings back great memories of that. This album saw these Manchester girls build tremendously upon debut effort Girls Like Us - it feels like a lot of the ideas from that album are truly fully realised on Wild Nights, "Young Girls" in particular being ace.
Lindi Ortega - Faded Gloryville: Canadian singer songwriter Ortega has that Dolly Parton-esque timbre in her voice that really drives the emotion of a song home and I'll be delighted to see her live next month. Songs like "Ashes" and "Run-down Neighbourhood" are pure genius.
Oddisee - The Good Fight: It's been a fair few years since I've heard a hip hop album with such a great old school likeability. Lots of great sing along moments and tremendous flow, the likes of "Contradiction's Maze" and "I Meant It When I Said It" feel simply joyous.
Alabama Shakes - Sound And Color: This one snuck up on me, but after embedding itself into my brain like a true earworm I believe this record finally sees the Shakes live up to the expectations debut single "Hold On" caused. The relaxed jingle of the title track, the desolation of "Dunes", the breakneck "The Greatest" - this album not only affirmed what a treasure lead singer Brittany Howard is but also saw the band exert a much bigger range than expected.
Sleater-Kinney - No Cities To Love: I'm one of those people who completely missed out on Sleater-Kinney during their initial career and knew singer Carrie Brownstein more for Portlandia than her music, so thank goodness the band not only reformed but also made a great album rather than just tour past glories. The spiky and punch guitars are fantastic throughout, and the vocal play between Carrie and guitarist Corin Tucker is a delight ("No cities to loh-ah-ahrve"). Plus one of my favourite songs of the year, "A New Wave", spawned one of the coolest videos of the year (yay Bob's Burgers!).
So, onto my ten favourites. I'll cover 10 through 6 here, then my top 5 next time.
10. Ghostpoet - Shedding Skin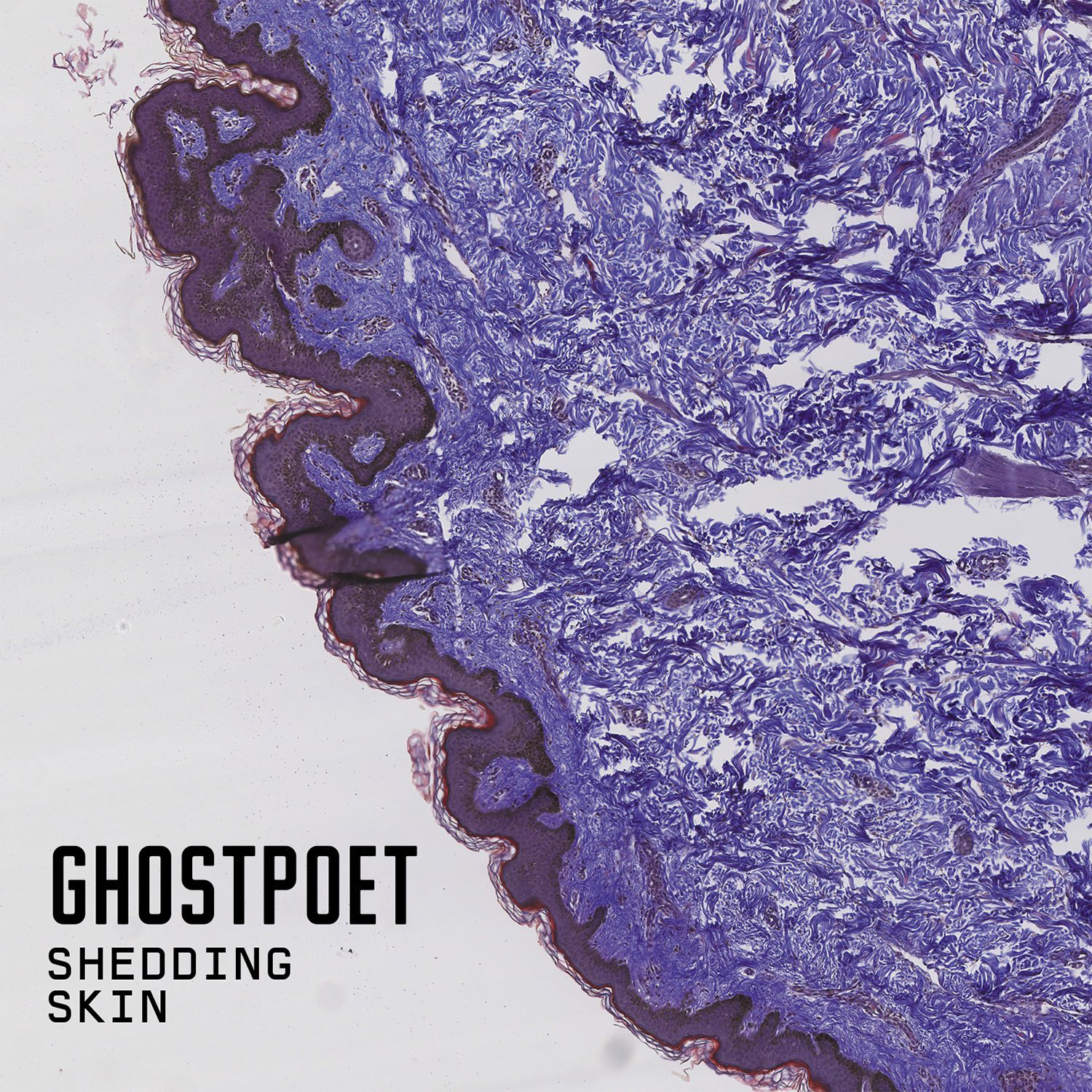 With his singles being a mainstay on 6Music's playlist, it has been hard for Ghostpoet to escape my attention. A very different kind of urban artist, his very considered approach and focus on real instrumentation has drawn a set of truly touching songs. The basslines are often key to the feel of tracks like driving opener "Off Peak Dreams" and the down right catchy "Sorry My Love, It's You Not Me", with keys or synths adding further layers to the atmosphere.

Another masterful feature of this album is the many winning cameos from other vocalists, each one complimenting Ghost's spoken word delivery perfectly. The phenomenal Nadine Shah (whose album Fast Food is also fantastic) is simply captivating on "X Marks The Spot" ("but you seem lonely") and "That Ring Down The Drain Kind Of Feeling" ("left broken hearted again"), while Paul Smith of Maximo Park exerts wonderful tenderness on the album's high point "Be Right Back, Moving House". Be sure to track this down.
Standouts: "Off Peak Dreams", "X Marks The Spot", "Be Right Back, Moving House"
9. The Tallest Man On Earth - Dark Bird Is Home

One distressing trend I've found glancing through the end of year Best Of lists is that the vast majority of people seem to be overlooking what I consider a career-best effort from Swede Kristian Matsson. What's worse is I've actually come across some attitudes online along the lines of "Urgh, what's with all the instruments?" after recording the album with a full band as opposed to the mainly solo, acoustic approach of his prior records.

I couldn't disagree more with that attitude. First coming across his work around the release of his album The Wild Hunt, Matsson sounded charming but I couldn't escape the feeling something was missing. It took hearing this album to realise what it was: the subtle strings and woodwind of "Singers", the pacey jangle of "Darkness Of A Dream", the beautiful jaunt of "Sangres". All of the gorgeous arrangements on show here hauled the monochrome of his older material out into the world of colour, I felt like Dorothy arriving in Oz, and yielded vast and expansive work like "Timothy" I wouldn't have thought TTMOE capable of in the past. This was such a joy to hear and a thoroughly rich experience.
Standouts: "Darkness Of A Dream","Sagres","Seventeen"
8. Kendrick Lamar - To Pimp A Butterfly
Honsetly, the past couple of years I've found good hip hop hard to come by, so 2015 has been a true blessing. I've already mentioned Oddisee, but Golden Rules' Golden Ticket was another tremendous release as far as bringing the fun factor back to the genre (I urge any Outkast fans to check that album out). However, the undisputed king of the scene this year was Kendrick Lamar. Or as he put it in "King Kunta", "Now I run the game, got the whole world talkin'". No artist can match him as far as social impact goes, just look at those Cleveland protesters chanting "Alright" in the face of police harassment.

At first I felt To Pimp A Butterfly was a little weighted down by this sense of duty Kendrick appeared to have to truly reflect what was happening in his community today (I'm somewhat guilty of thinking "oh, fuck's sake" every time that "I remember you was conflicted" skit comes up"), but on reflection there's still plenty of moments where Kendrick finds time to be playful - basically just pissing around over Kamasi Wahington's sax on "For Free?" ("Thissss diccck ain't freeee"), crying out "What's the yams?" on "King Kunta", the entirety of his wheezy vocals on "u" making him sound like an old accordion. Naturally such a long album also covers a great range of material and one can also find moments of levity in the grooves of "Complexion (A Zulu Love)" and Anna Wise's great vocal work on "These Walls".

However, there's no doubt Kendrick is furious at the state of affairs in his country and some of the album's strongest moments come when he anoints himself the man to lead his generation, particularly on "King Kunta" ("I don't want you monkey-mouth motherfuckers sittin' in my throne again"), "Hood Politics" and the absolutely blistering "The Blacker The Berry". This man is a true sensation.
Standouts: "King Kunta", "Alright", "The Blacker The Berry"
7. The Staves - If I Was
When I saw this year's Mercury Prize nominations I was left pondering where the "token" folk record was. More specifically I was aghast at the absence of this magnificent sophomore effort by The Staves, a truly spectacular genre-transcending success story. The sisters Staveley-Taylor (Jessica, Emily and Camilla) are not only ace company out on the lash judging by their Facebook account but are also blessed with a vocal chemistry which yields truly heavenly harmonies (see the lush "Horizons" or the intricate "Let Me Down"). The girls' vocals could probably carry the album on their own.

Not that they need to, as this album finds them in the capable hands of producer Justin Vernon, who shows he's using his time away from Bon Iver very wisely (although seriously Justin, where is that next Bon Iver record!?). The deft touches of horns and keys on the likes of "Horizons", "Steady" and "Don't You Call Me Anymore" echo Bon Iver's eponymous album, while his own vocals on "Make It Holy" are a sublime foil to the higher register of the girls' harmonies. Not content with killing it with such beautifully crafted, genteel material, the sisters then shine on two all out blow away, hair down sing alongs in the glorious "Black & White" and the triumphant "Teeth White" - the year's ultimate "the world is out to get me and can fuck right off" anthem. Simply awe inspiring.


Standouts: "Black & White", "Horizons", "Teeth White"
6. Jason Isbell - Something More Than Free
Call it Americana, roots, country or whatever, but ex-Drive By Truckers member Jason Isbell is simply on fire when it comes to creating emotive and resonant tales of life's struggles. Everybody in music nowadays seems to yearn for authenticity but Isbell has such sincerity he appears to radiate it effortlessly. Take cheery opener "If It Takes A Lifetime", with its brilliant chorus ("I thought the highway loved me but she beat me like a drum"). Such breezy tales of ambition and hope could border on schmaltz, but Isbell's songwriting is so well grounded with his use of detail that the worlds he creates with his music feel like they have that fundamental "lived in" quality to them, such as "Flagship" ("The lights down in the lobby don't shine; They just flicker while the elevator winds").

Jason's journey from sobriety to marriage and ultimately fatherhood is no doubt a major factor in informing these experiences. The former is especially evident on "The Life You Chose" ("Here I am inviting you to throw your life away; Victim of nostalgia, maybe Tanqueray") and "Speed Trap Town" ("It's a Thursday night but there's a high school game; Sneak a bottle up the bleachers and forget my name").

Jason's wife Amanda plays fiddle throughout much of the album, giving it a lovely Comes A Time era Neil Young feel and nigh on stealing the show on "24 Frames". Meanwhile becoming a father appears to have prompted Jason to reflect on his upbringing on the simply stunning "Children Of Children", which features one of the most heartbreaking lyrics I've ever come across; "I was riding on my mother's hip, she was shorter than the corn; All the years I took from her just by being born." Good Lord almighty that's just breathtaking, how can you fail to be moved by that?
Please let this record into your life, you won't regret it.
Standouts: "If It Takes A Lifetime", "Children Of Children", "Something More Than Free"