OK, it's been a while since I've posted anything, and even longer since I've updated you on my 1001 albums challenge. I've been sitting on this total since January and then used most of my listening time trying to catch up on all the music Paste, Drowned in Sound, and all the other music mags and sites recommended in their end of year lists.
Naturally I found tonnes of stuff to recommend - check out
Teenage Retirement by Chumped
(great bratty Weezer-style rock),
Bury Me At Makeout Creek by Mitski
(emotionally wrought with great vocals),
Divisionary by Ages And Ages
(full of cheery harmonies and melodies) and
Going Back Home by Wilko Johnson and Roger Daltrey
(terrific throwback, good old fashioned rock with a bit of a swing).
Follow me on Rdio
if you're interested, and you can find many leftovers in my playlists.
Oh and also, despite not posting anything last month I somehow managed to pass 1000 views in a single month for the first time! Which is a bit mental. Lots of views from Russia too, I hope I'm not on some kind of hit list! Anyway thank you for viewing.
We're now getting so close to the finishing stretch, here's what I checked out this round.
Pretty good stab at ACDC style three chord shake a leg RAWRK. It's weird how much the singer sounded like Black Grape era Shaun Ryder on "Lil' Devil", but it was a really enjoyable listen anyway.
George Michael - Faith, Listening Without Prejudice Vol. 1
Before he became bit of a car crash (literally) and the butt of everyone's jokes thanks to his personal life, George Michael was quite famous thanks to his surprisingly soulful voice. Although there was a tonne of cringe worthy stuff between these two albums (I NEVER want to hear Michael refer to sex ever again) Faith at least had the title track and "Father Figure", both of which have dated kindly, and Listening... had the great "Freedom! '90". There's still not enough here that warrants your attention though.
Aster Piazolla & Gary Burton - The New Tango
Nice plinky plonky, Xylophony percussion here. That and the way the string arrangements vary from short and sharp to gentle and elongated makes me think of the soundtrack to the Professor Layton games. I've finally started Azran Legacy, the plot is very action heavy. I'm only on chapter 3 and so much has happened already!
Cowboy Junkies - The Trinity Session: With a name like that I did not expect this band to be fronted by a female vocalist with such a nuanced voice. Their reworking of "Blue Moon", "Blue Moon Revisited (Song For Elvis)" is just lush.
Ladysmith Black Mambazo - Shaku Zulu
Pretty relaxing listen as you'd expect from Lady Smith, their harmony work is lovely. That does get broken up a little bit when the guy doing the Police Academy sound effect noises comes in. After hearing the genteel vocals of the others it's pretty jarring to hear all these "Brrrrrrrr... POP!" noises. Oh also, happy 11th anniversary to Mean Girls for the other day. Still genius. (There, I said it!)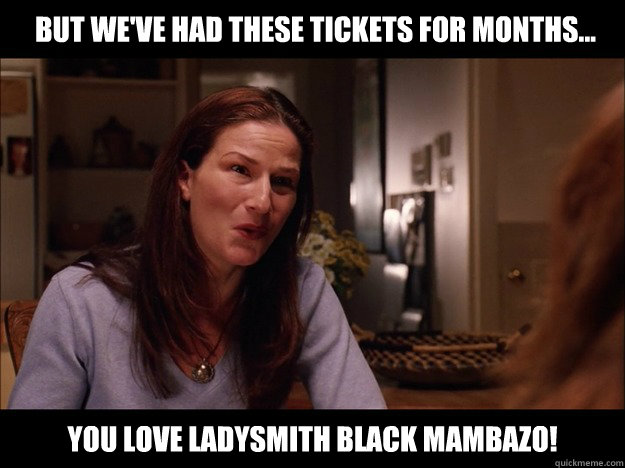 The Sugarcubes - Life's Too Good: Hey, it's Bjork before she was, you know, Bjork. Who knew she was so punky? Hearing her among such different instrumentation than her usual artsy stuff was a bit of fun.
Lenny Kravitz - Let Love Rule: Speaking of fun, here's an album I wasn't expecting to be lacking in fun factor. Nothing ala "Are You Gonna Go My Way" was here, it was all pretentious flower power stuff. Much more tedious than I was banking on.
Napalm Death - Scum: For me this is where heavy metal just reaches self parody. Seriously what the fuck was with the vocals on this album, it's like when Trey Parker from South Park does that dog bark style singing taking the piss, except trying to be serious! Just, no.
"Well Jay, Trey is wearing a lovely powder blue and yellow ganzie over his cream SHART, therefore he is... a Haribo Minion."
The Triffids - Calenture: I quite liked the singer here, sounding like a mix between Mick Jagger and Billy Corgan. Pretty cool, check out "Vagabond Holes".
The Go-Betweens - 16 Lovers Lane
I thought this album was tremendous. I've been the proud owner of Maximo Park's cover of "Was There Anything I Could Do?" for years without making the effort to seek out the band they were covering. I'm quite ashamed I didn't do it sooner now, this album is pure quality. The sentiment of "Quiet Heart", the gentle jangle of "I'm All Right", the woodwind and guitar work on "Dive For Your Memory". This album was a winner.
My Bloody Valentine - Isn't Anything
I definitely enjoyed this much more than Loveless, far less ear piercing din and much more pleasant. Songs like "(When You Wake) You're Still In A Dream" had a definite influence on lots of bands I listen at the moment like Cheatahs. Other favourites of mine were the pacey "Suesfine" and crunchy "You Never Should".
Did I resolve whether K D is a man or a woman last time round? I can't remember. Anyway, this is a more straightforward classically country/crooning album from Lang, and it's a peach. "Tears Don't Care Who Cries Them" is a joy, one of those snuggle up at Christmas ballads, like a lost Bing Crosby song. Lovely.
Sigh. It's hard to imagine a time when Madonna was at the cutting edge of pop seeing her now snogging Drake's face off, trying to be a stand up on The Tonight Show, doing anything she can to attempt to be relevant. I wasn't fond of the whole "daddy issues" aspect but I found this a decent listen. Hardly world changing, but that might just be an indictment of how many people have assimilated Madonna''s sound as a consequence of her success. Something like "Express Yourself" is a good example, really good pop song that Lady Gaga clearly worshipped otherwise she wouldn't have made "Born This Way".
Oh, on another note Madge, you should have just
said yes
.
Neneh Cherry - Raw like Sushi
I like Neneh's attitude. If you get chance, she did a duet with Robyn on her most recent album that's pure badass (and what made me realise Neneh's Swedish - yes I'm slow on the uptake sometimes), you should check it out. Anyway, this attitude shone through here, even on the thoroughly nineties "Buffalo Stance" and "Manchild".
Barry Adamson - Moss Side Story: While there was nothing on the level of his collaborations with Jarvis and Nick Cave on Oedipus Schmoedipus, "The Man With The Golden Arm" certainly satisfied my need for his parpy faux Money Programme theme tune brass.
Soul II Soul - Club Classics Volume One: I got these guys confused with Boys II Men and was expecting some karaoke worthy "I'LLLL MAKE LOVE TO YOOOOOU", so imagine my disappointment when I found some Casio keyboard level beats and that annoying "Back To Life (However Do You Want Me)" song.
Cheeky album cover here, and that sense of fun carries over into the music. Lots of energy even though they were a bit long in the tooth at this stage, and of course the infamous "Love In An Elevator".
Bonnie Raitt - Nick Of Time
Bonnie's background is much more varied than I thought. I always thought until she made this album she was considered country music's nearly woman, but the arrangements here sound much more contemporary (for the time) than I expected. "Thing Called Love" sounds like one of those songs I swear I've hear before but can't figure out if I genuinely have or if the feel of the song was just somewhere in my subconscious.
Janet Jackson - Rhythm Nation: Man, that title track sounds like it should be soundtracking some fight scenes from VR Troopers with all its 60s Batman "BAP" sound effects (damned catchy chorus though.
Digital Underground - Sex Packets: God almighty this just sounded like every 90s hip hop album ever. Totally skippable.
LL Cool J - Mama Said Knock You Out: This was a little bit more like it. Before he was hosting lip sync battles and randomly turning up in Wrestlemania opening videos LL was a pretty good rapper.
Ah yes the pioneers of cosy local radio gentle rock. Somewhere Keane were taking notes. Seriously if you've escaped hearing "Weather With You" you must have been living in a cave. He's a nice bloke Neil Finn, and he makes some nice music. His son Liam is bloody great too, his album "I'll Be Lightning" brings back lots of great memories, and he's a big Pearl Jam fan too. Good lad.
Cypress Hill - Cypress Hill: God I didn't realise how whiny Cypres Hill's voices are. Not quite Tiny Tempah bad but still distracting. Quite a good listen otherwise but can't supplant their Simpsons appearance as my favourite thing they've done.
Julian Cope - Peggy Suicide: Meh. The only track I hit the heart button for on Rdio was "If You Loved Me At All" and listening back now... I can't figure out why! Might be the closing moments and all his crazed screams. Move along.
Ice T - O.G. Original Gangster
Another hip hop star who found fame elsewhere, here is Ice T from Law & Order: Random Taskforce Spin Off sticking to his day job. Which was being very foul mouthed and offensive, but really hilarious! I was laughing so much at "Bitches 2", him being admirable confrontational about using rock music in "Body Count" and about the N word (not
Nogger
) in "Straight Up N*gga". Something different from the norm.
Gang Starr - Step In The Arena: These guys had nice flow, I loved the use of "California Soul" in "Check The Technique". They managed to make a hip hop album that actually sounded chilled rather than tedious. Good on them.
The Shamen - En-Tact: Ah yes, more names to put to one hit wonders here, with this album unsurprisingly featuring their one hit "Move Any Mountain". I can't say they did a great deal else to make me care.
Kid Rock - Devil Without A Cause
Ah, it's one of WWE's
five bands of doom
. For some reason I could tolerate that crunching guitar and white boy rap nu metal sound when it was Limp Bizkit or Linkin Park (I was young and impressionable) but Kid Rock was always beyond the pale for me. There were two things of note here for me though. One was Eminem turning up on "Fuck Off", which was a massive surprise because I thought Kid Rock would have been the type of person Slim would find an unbearable
wank pheasant
. And the other was "Cowboy", which always makes me think of Jeff Jarrett's theme in WCW (who rip off tonnes of real songs to create music for their wrestlers). Sure he
broke thousands of guitars and never drew a dime
but his entrance was cool.
The following also didn't make much of an impression
The Sisters of Mercy - Floodland
Laibach - Opus Dei
Fishbone - Truth And Soul
John Zorn - Spy vs Spy: The music of Ornette Coleman
Mudhoney - Superfuzz Bigmuff
The Young Gods - L'Eau Rouge
Dwight Yoakam - Buenas Noches From A Lonely Room
fIREHOSE - Fromohio
Baaba Maal & Mansoor Seck- Djam Leeli
Jay Wobble's Invasion Of The Heart - Rise Above Bedlam
Right, that's a wrap for this time. Reading back I can't believe how many wrestling references I squeezed in there to distract myself from how little I liked some of this stuff. You might see more of that soon, or you can check out some of the
wrestling posts
I've
already
done
here
.
See you all soon.